The Career of Carmelo: A look at the interesting career arc of Knicks star Carmelo Anthony, one of the most gifted scorers in the league at his peak.
I don't know how this guy has not won a title. Melo is possibly one of the most underrated players of the decade. When people think of Melo, most of the time it's just he is a gifted scorer, but doesn't have the leadership or drive to win a championship. Well, I'll tell you something. This dude had the skill level to win a championship. If his prime had come when smallball is as big as it is now, and had at least one other top-ten player on his team, he would have won at least one title. 
Carmelo was a beast in college. Like, this whole "one-and-done" era is predicated on getting a Carmelo Anthony. He planned to stay in school for two or three years, but didn't because he "already achieved everything he wanted to do."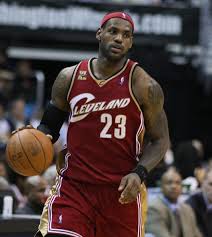 This was an accurate assessment, as he averaged over 20-points-per-game and led Syracuse to a national title. His ability to score was just unrivaled in college basketball by any other player. One can only imagine what would have happened if Melo stayed in school and if another young standout (LeBron James) decided not to forgo college. 
These two studs were drafted in the epic 2003 draft class. I mean, look at this ridiculousness of a top-5 (albeit, there is one dud of a player).
| | | |
| --- | --- | --- |
| 1st | Cleveland Cavaliers | LeBron James |
| 2nd | Detroit Pistons | Darko Milicic |
| 3rd | Denver Nuggets | Carmelo Anthony |
| 4th | Toronto Raptors | Chris Bosh |
| 5th | Miami Heat | Dwyane Wade |
Some would say that Darko Milicic is the oddball out on this one. I'd say that Carmelo is the oddball out. Sure, he didn't turn into a kick boxer and break his foot. But, of all those players, he is the only one without a ring. And, it just doesn't make sense.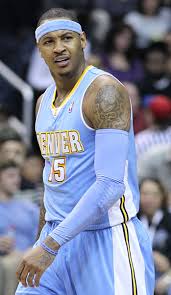 As much as I enjoyed Melo on the Nuggets, it just was not a good fit.
How else can you explain how he took a team that was tied with the Cleveland Cavaliers for the worst record, to seven-straight playoff appearances, yet somehow not win a title.
Before Melo, the Nuggets hadn't even been above .500 since 1995.
No matter what team was put around him, and even when the team didn't fit (cough, cough, Allen Iverson), Carmelo still got results for both himself and his teammates. The fact he guided the Nuggets to a Western Conference Finals appearance with no other star to speak of is exceptional, almost as impressive as LeBron winning two titles with two other stars. (Ironically, all four of these players were from the 2003 top-5. How Pat Riley managed to get three of the top five players (James, Wade, Chris) from one of the most loaded drafts ever, I will never know.) 
It was really only a matter of time before Melo left.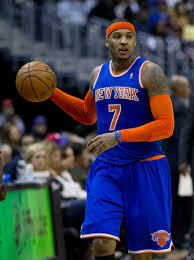 Our GM was pretty incompetent, and taking Nikola Tskitishvili over Amar'é Stoudemire was just one of those blunders. However, gutting the roster of the team your going to instead of waiting it out until free agency was the biggest blunder of all. Anthony wanted out of Denver so badly, he sacrificed his own future for it, as forcing the trade to New York costed the Knicks valuable role players in Danillo Gallinari, Timofey Mozgov, and Wilson Chandler. That was probably the best situation Melo ever had to win a title, yet he gave it up simply to get out of the disfunction of Denver.
Carmelo, ironically, finally did get paired with Stoudemire in New York, but unfortunately, a litany of injuries to the ex-Suns power forward caused the Knicks to never get too close to contending. The tenure of Melo in New York has been pretty uninteresting, which is probably why people have forgotten just how good Melo is.
There is still hope, though! Recent trade rumors have Carmelo going to places like Cleveland, Boston and even Miami. Any number of those places could finally bring out the Melo that no one is waiting for or expecting- the champion. If anyone deserves it, it's him. Until next time.
Collegian NBA Blogger John Scriffiny can be reached online at blogs@collegian.com or on Twitter at @JScriff.