NBA Heat Check: LeBron vs. Draymond Part 2
John Scriffiny
February 11, 2016
LeBron vs. Draymond Part 2: Between these two stars, today, who would I rather have?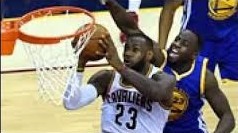 As I said yesterday, this argument seemed utterly ridiculous as soon as the beginning of last season. But now, it is a lot closer. I'll get right into it.
As similar as these players seem, I think there are a few key differences. Draymond Green is a better spot up shooter than LeBron, and can fit any role you want to put him in. LeBron James is as talented as they come, but he has a lost a step, at least in the regular season. Additionally, I doubt LeBron James would be comfortable in a spot-up/extra pass guy. There is something to be said for being the perfect role player, and that's what Green is.
What it comes down to in my mind is that it all depends on who is already on your team. Most of the time LeBron would be your guy, but I'll get more into what I mean.
LeBron would fit into a team that needs a leader. That's not to say Draymond is a good leader, but LeBron is more suited for that alpha dog type position due to his ability to drive when it seems like nothing is there. He can create something out of nothing. He would be better than Draymond on teams like the 76ers and Nuggets, where a team has no leader whatsoever. He would fit on any team really, but especially those looking for that superstar.
Draymond is a different kind of superstar. He makes superstars better. He is like a supercharger. On a team by himself, he would definitely struggle making his own baskets and creating his own shot. But on a team like the Spurs or Warriors, he takes them to another level. He is probably the most selfless player in the league, not looking for his perfect shot, but the perfect shot for his team. With Steph Curry and Klay Thompson, he is free from the load carrying duties and can just focus on making the offense run better while locking down any player you want on the defensive end. He has lack of desire to be the guy, and it just isn't his skill set. What I mean by this is a star is adept at creating his own shot, which is the one thing Draymond doesn't have. However, it makes him a perfect match with a superstar who creates his own stuff, such as Russell Westbrook or even LeBron himself. 
In the end, I'd probably take LeBron no matter what. Put him with another superstar, a title is basically guaranteed. One could make the argument that last year he lost to a superstar with Draymond, which is where Draymond fits perfectly like I just argued, but the second-best player on the Cavs for that series was Tristan Thompson, as both Kevin Love and Kyrie Irving were both injured.
The fact LeBron won two games against a 67-win team is absurd. Even when LeBron was with Dwyane Wade and Chris Bosh (a washed up Wade for part of it), he made four straight finals. The dude can carry anybody in the playoffs. I realize he isn't the same player he used to be, but the way players sit out regular season games nowadays gives me a feeling that when it counted, he could be close to his old self. Which is pretty terrifying. 
So I guess it's still LeBron, but it's closer than you'd think, which is crazy. The Sixers have tried so hard to get that elusive superstar, when the Warriors have built a dynasty out of the 7th, 11th, and 37th picks (Curry, Thompson, and Green respectively). It just goes to show some of this stuff is up to dumb luck, and teams just have to be patient. Until next time. 
Collegian NBA Blogger John Scriffiny can be reached online at blogs@collegian.com or on Twitter at @JScriff.