NBA Heat Check: Possible trade for the Chicago Bulls
John Scriffiny
February 18, 2016
Bullshift: In today's heat check, I will be trying to sort through a possible trade in Chicago.
Recent NBA trade rumors have implied that the Bulls are looking to move power forward Pau Gasol. In my mind, it's about time they made a change.
Their front court is way too crowded as is. They have Gasol, Taj Gibson, Nikola Mirotic, Bobby Portis, Joakim Noah and even Doug McDermott (or should I say, Dougie McBuckets). What they should be looking for is a solid wing player that can give them minutes at the two and three spot. Right now, minutes wise, Jimmy Butler is just carrying too much of a load, and injuries are bound to happen to him with all the time he is putting in.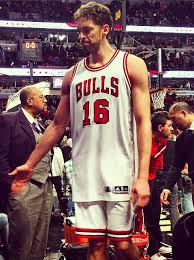 Gasol seems to be the one who makes the most sense as a trade candidate. He has the option to opt out of his contract this coming offseason (with the cap boom, I don't see why he wouldn't) and is getting up there in terms of age at 35 years old. That being said, he still has a lot to offer to a team interested in fortifying their front court. I mean, this guy had a 48-point, 14-rebound performance last year. He just doesn't fit in a crowded team like the Bulls when other needs are apparent.
What the Bulls need to find is a team that has a solid collection of win players but lack a solid front court guy. Unfortunately for the Bulls, there just aren't many teams who have "too many" wings and not enough front court guys.
The league is getting smaller and faster. Gasol still has a niche, sure, but no team in their right mind would give up a solid three-and-D wing for a post player who is average on defense and can't switch onto guards in the pick and roll. In other words, no team really has a wing to spare. That being said, looks like this one has to be a three-teamer. To the trade machine!
Well, that was a pain. Three teams wasn't enough.
Also, just trading Pau wasn't enough.
I don't think D-Rose and Butler play with each other very well, and the Bulls have had success with tiny point guards. So, they will get Ty Lawson, their tiny point guard they have been waiting for, and Evan Turner, who can provide some depth at the wing.
The Rockets will get Gasol and the seemingly limitless potential of Joel Embiid, who could become the next Hakeem Olajuwon (or not). The Celtics get the star they have been looking for in Dwight Howard. Then, the Celtics get Derrick Rose and his albatross of a contract ($20 million a year for a player who peaked in his second year and became washed up in his fourth? No, thank you). 
One may look at this and think, "wow, the Celtics gave up nothing and got Dwight." Well, they don't get off that easy. The Sixers are giving up a potential stud and taking  on a massive contract in the middle of their tanking.
So, they get some draft picks from the Celtics. Boston owns the Net's pick next year (and the Nets won't be good next year either, as the Celtics have their pick this year as well), so that and their own pick this year should even it out. Here is the rundown of the Pau Gasol trade:
| | | | |
| --- | --- | --- | --- |
| Chicago Bulls | Boston Celtics | Houston Rockets | Philadelphia 76ers |
| Ty Lawson | Dwight Howard | Pau Gasol | Derrick Rose |
| Evan Turner |   | Joel Embiid | 2017 Brooklyn pick |
| *Carl Landry |   | *David Lee  | 2016 Celtics pick |
* represents players who don't matter and are only their for cap purposes. Sorry, David Lee. Carl Landry, you already gave up as an NBA player, so you don't get an apology. 
So, yeah. The Bulls get their wing, the Celtics get their star, the Rockets get their swing for the fences and a solid player to help them contend this year (Embiid and Gasol respectively), the Sixers get their big contract that no one else wants (D-Rose) and picks. And, let's be honest, picks are all the the Sixers ever want. Until next time.
Collegian NBA Blogger John Scriffiny can be reached online at blogs@collegian.com or on Twitter @JScriff.