Australia Abroad: Adjusting to the scenery, Bondi Beach Walk
Michelle Buser
February 19, 2016
After a missed flight, a layover in Los Angeles, and a very long 15-hour flight (I sat next to a CSU student on the flight, what a coincidence), I finally made it down under!
As I was arriving at the university I didn't know what was in store for that day. I had been up for almost 30 hours and it was only 10 a.m., so even though I wanted to go to sleep so bad, I knew it was best for me to stay up so I could try to adjust to the time change.
I got a taxi from the airport and it was almost an hour drive to the university. The taxi driver dropped me off at the front gates of my apartment complex and put my luggage on the side walk and then drove away. There I was, left on the curb with my bags, staring at a bunch of apartments in Australia that looked the same. I had no idea where I was at, so I just started walking, in hopes that someone would notice that I looked like a lost puppy. After walking, what seemed like 40 minutes with my luggage around the complex, I finally found a place to check in. 
Once I got to my apartment and got my luggage upstairs, I went to my roommates' rooms right away to introduce myself. This really set the tone of the relationship with them. I have three roommates so far, and am expecting two more, one guy from Boston, Massachusetts, one guy from Indonesia, and a girl who is from South Korea.
After introducing myself, I thought  I would maybe organize my room, get settled, take a shower to get the travel stink off of me, and take a little nap, but my roommates already had a day planned for us. We had breakfast, which consisted of snag (sausage) on a bun. Then, we decided to go get some groceries … Let me give you a piece of advice, always have the cashier double-bag your groceries if you plan to carry them all the way home. We were about half way home when all of our bags started to rip. Our food was all over the place, but then we found a shopping cart and we decided it was a sign from the Gods. We piled all of our food up onto the cart and started pushing it up the huge hill.
We were all jet lagged, exhausted and wanted a little piece of home, so we decided to make Ramon and watch a movie on Netflix. This was a great way to end a long, tiring day. 
After getting to know my surroundings and settling in for a few days, I figured it was time to see the Sydney and all it had to offer! Here are some pictures from the Bondi Beach Walk I took!: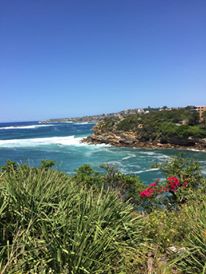 I realized that waking up in a new place is extremely hard no matter who you are.
When I woke up on Wednesday morning, I realized the adrenaline from planning this trip, traveling, meeting my roommates and being in a brand new place wore off. Don't get me wrong, I am still enthusiastic about being here and am ready to take on the adventure, but was extremely overwhelmed and kind of lonely my first couple of days. I always feel better after calling my family, even if it is just to speak to them for three minutes.
Even though it may be intimidating at times, step out of your comfort zone. It's the best thing you can do for yourself. 
Cheerio! 
Collegian Australia Abroad Blogger Michelle Buser can be reached online at blogs@collegian.com or on Twitter @Buser_Michelle.