Joe DeLine, a family and Colorado State University legacy
Paislee Fernau
October 6, 2021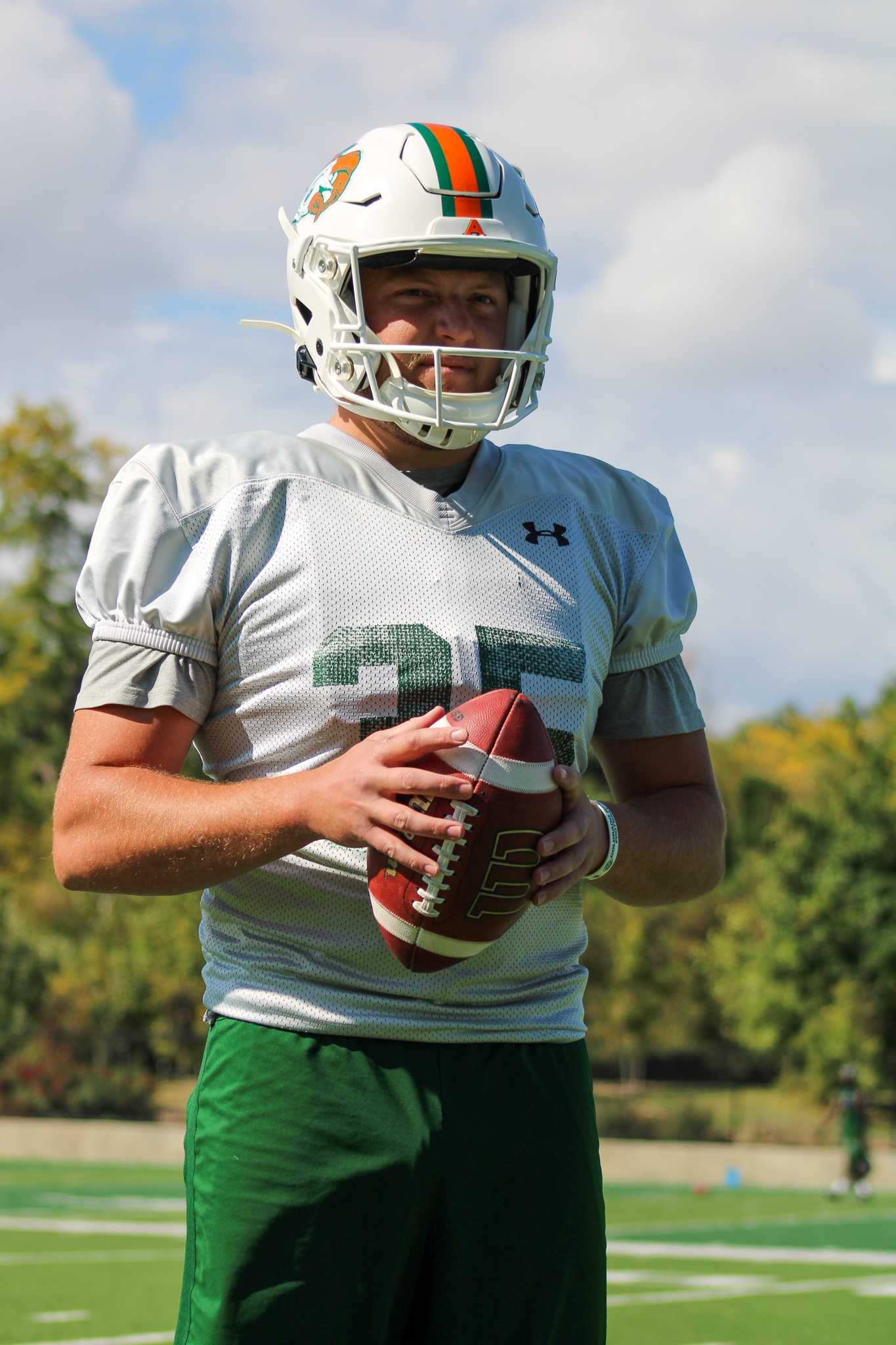 Editor's Note: Read the Spanish version of this article here.
Green and gold colors have surrounded local legend and graduate student Joe DeLine his entire life.
DeLine's love for Colorado State University began when his father, Steve DeLine, was an all-conference kicker from 1984 to 1986 and graduated an all-time leader in field goals at Colorado State before his NFL career. Joe's brother, Ben DeLine, was also a kicker from 2008 to 2011 and ranked top six for CSU career makes.
Now, being the third in line to graduate as a member of the CSU football team, Joe DeLine shared insights into his last upcoming homecoming game.
DeLine described his first memories with football and his father.
"I used to actually be the tee-boy, so every kickoff I'd run out and grab the tee," DeLine said. "My first CSU football memories are on the sidelines going to the games."
DeLine said his family is still very much connected to CSU, and his parents go to every game. Growing up as a legacy, the entire family surrounded themselves with green and gold, as DeLine said they're "Ram fans through and through."
Since DeLine's debut with CSU in 2018 against Boise State University, he has played in 20 games and added 15 yards to his stats as of this season. Working alongside kicker Jonathan Terry, the two create options for the team to maintain accuracy for games.
DeLine said he wouldn't trade being a legacy for anything — growing up a fan and learning about football has been his entire life.
When DeLine was young, he "would watch film with my dad wearing the Ram helmet, kicking, and then going to all my brother's games (and) watching him and then doing it myself. It just feels right growing up seeing my dad do it, then as a teenager watching my brother do it and then doing it myself."
(Growing) up my family was my coach; I learned everything I know about football from my dad and my brother." –Joe DeLine, CSU football kicker
DeLine also shared that the legacy will continue with his own children someday, as "they're gonna grow up Ram fans," DeLine said.
CSU is especially meaningful to the DeLine family because of the school's agricultural background; growing up with a ranch and a farm impacted his appreciation for both his childhood and its ties to the school's history.
"One of the coolest things about CSU connected to my family is the agriculture behind it and the old-school mentality of the appreciation for agriculture," DeLine said.
This year's homecoming game and family weekend is Oct. 6-9, including a bonfire, fireworks and tailgating. For DeLine, it'll be his last homecoming on the field.
"(The) homecoming game is special, it emphasizes everyone and the pride that they have being a CSU Ram," DeLine said.
Each year the DeLine family has traditions of their own, and DeLine said his mom always makes cookies of the CSU jerseys with everyone's number on them.
DeLine said one of his most memorable career moments was beating Arkansas as well as his first time playing the University of Colorado Boulder. Growing up a proud Ram fan, DeLine was born into the rivalry. DeLine also said one of his best memories will be all of the people he has met in his six-year career at CSU.
"I definitely have met a lot of great people who I will be friends with the rest of my life," DeLine said.
When talking about the best piece of advice he has gained from coaches or family in his life, DeLine said those are one and the same.
"(Growing) up my family was my coach; I learned everything I know about football from my dad and my brother," DeLine said. "But then even under (Mike) Bobo he has some great quotes, (Steve) Addazio has some awesome knowledge behind him and even some of the little stuff he says that I'll really take to heart on just his mentality about life, football and everything outside of football."
For DeLine, his coaches and his family have always kept one mentality the same, and he spoke on how Addazio focuses on these as well.
"He's big on character, which I like," DeLine said. "My family is the same way — honor and character are two of the biggest things that we focus on, and Addazio is really passionate about those."
Looking to the rest of the season, DeLine is excited for conference play and one last run with all of his friends, including Toby McBride, who started at CSU in 2016 with DeLine.
"We got a good group here, and I'm happy to be a part of it, and I'm just excited to hopefully finish out strongly in conference play with them," DeLine said.
Reflecting on his many years as both a student and graduate student at Colorado State, DeLine said the best thing about it is being able to share playing CSU football with his family.
"(My) brother, my dad and then my mom and sister are involved with it as well," DeLine said. "Being actually able to wear CSU (gear) and play on the field as a CSU Ram and share that experience with my brother and dad is probably the thing I'm most grateful for and will remember the most."
DeLine and his teammates will take on San Jose State University at 1:30 p.m. Oct. 9 with all of the Ram community and the DeLine family cheering them on.
Paislee Fernau can be reached at sports@collegian.com or on Twitter @PaisleeFernau22.