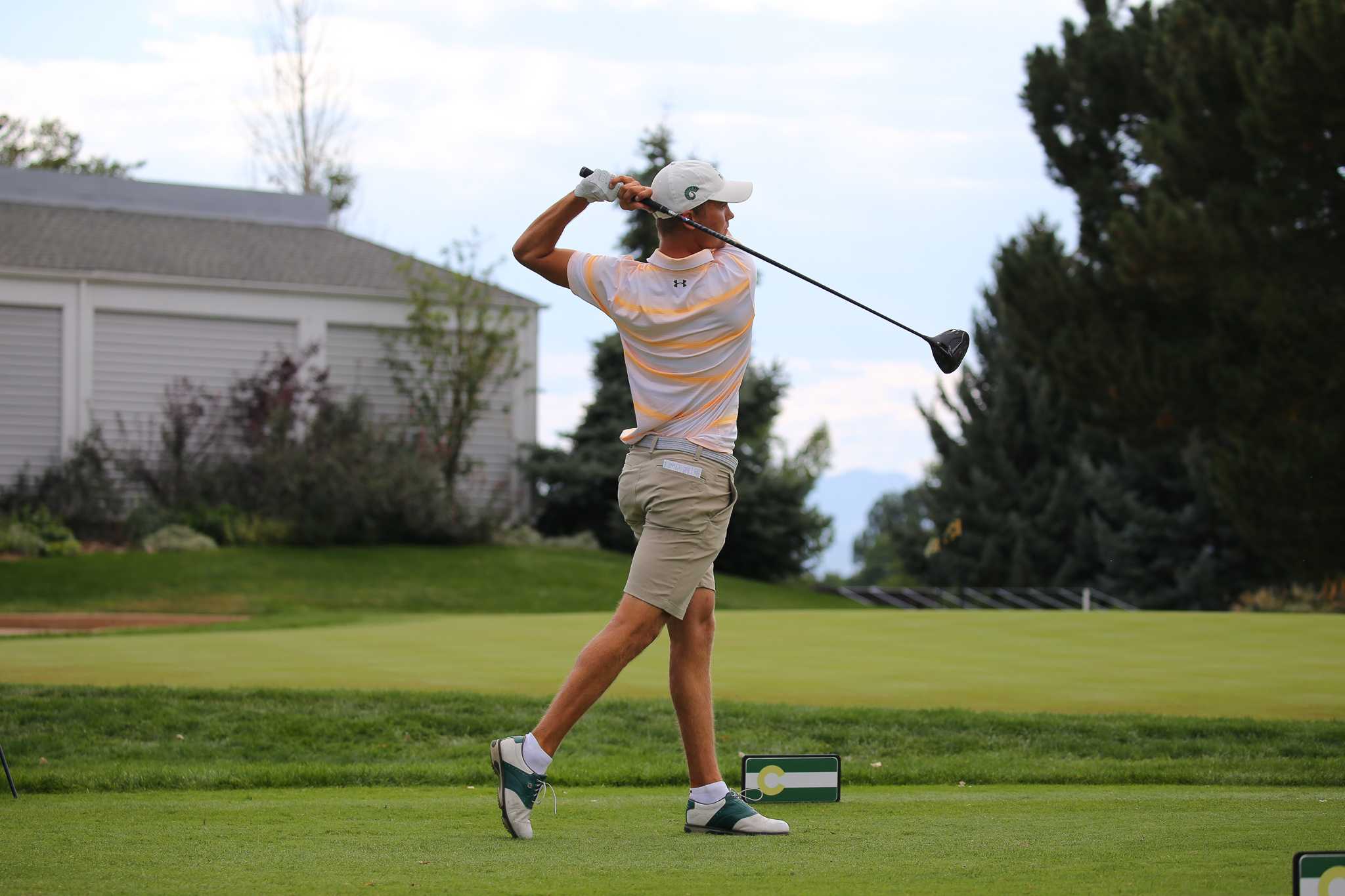 The Colorado State University men's golf team kicked off their season Monday as they hosted the Ram Masters Invitational at the Fort Collins Country Club. The two-day invitational was heavily impacted by the erratic Colorado weather in the opening rounds on Monday, but the CSU men stayed focused in the final round on Tuesday to finish first on their home turf and win their seventh consecutive Ram Masters title.
The Rams were likely confident going into round one of the invitational. This is their competition, and having won it six times in a row previously, they were looking to do the same in 2021.
The weather had other plans.
The team that can deal with it best and not get down on themselves — to be patient — that's the team that's going to come out on top." –head coach Christian Newton
High winds and cool fall temperatures descended on Fort Collins Country Club Monday, making the playing conditions extremely difficult. 
"It's going to be a hard day," Rams head coach Christian Newton said. "The conditions are going to be really tough, and you're going to make some bogies."
Every team involved struggled to keep their scores under par, with the University of Northern Colorado shooting the best after the first round of 18 with a team score of 313. The Rams collectively scored a 314, which left them +34 over par going into the second grueling round of the day.
Round two was more of the same for all teams. Colorado State golfers Davis Bryant, Christoph Bleier and Connor Jones were all able to keep their scores under 80 with the players shooting 77, 77 and 78, respectively, to help bring their team score down to a 312 after round two. It wasn't enough to put them where they probably would've liked to have been after day one, as the Rams were sitting in sixth place with a lot of work left to do in round three on Tuesday.
"The team that can deal with it best and not get down on themselves — to be patient — that's the team that's going to come out on top," Newton said.
The conditions were much more gracious to the 16 teams Tuesday, and the Rams took full advantage of it to play the course the way they're used to playing it. CSU's top three golfers from the previous round were able to cut 10 strokes off their game with Bryant, Bleier and Jones shooting a 67, 67 and 68, respectively, to finish the invitational. A 73 from teammate Oscar Teiffel and a 77 from Jay Pabin was enough for the Rams to rally with a tournament-leading team score of 275 to put them at 901 through three rounds and a first-place victory overall.
Three Rams worked their way into the top 20 as well, with Bryant tied for second place with 220, Bleier tied for sixth with 222 and Jones at 11th with 226.
The Rams' next challenge will remain in the state as they make the trip to the Colorado National Golf Club in Erie, Colorado, Sept. 27 and 28 to play in the Mark Simpson CU Invitational.
Bailey Shepherd can be reached at sports@collegian.com or on Twitter @B_Sheps.