[smartslider3 slider="86″]
LAS VEGAS — Round one of the 2021 Air Force Reserve Mountain West Conference women's basketball tournament saw two very different games. 
Game one of the tournament saw San Diego State University and the United States Air Force Academy battle it out in a tight but stagnant game. The eight and nine seeds, respectively, showcased a contest of subdued offenses in the first half. Both squads came in averaging 60 or fewer points per game, and the lack of consistent scoring ability was evident.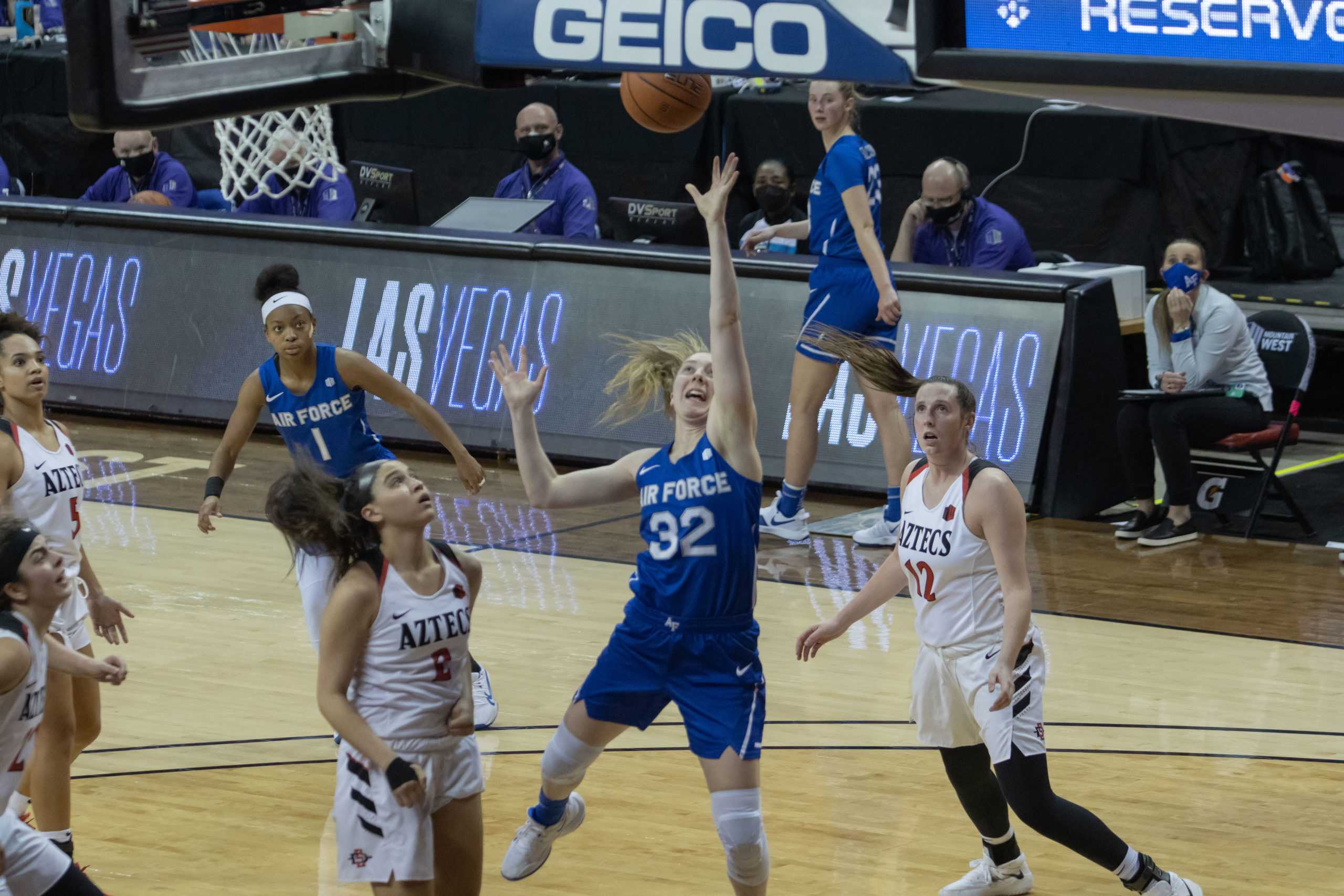 SDSU led 23-18 going into halftime, but they should have been up much more. The Aztecs overcame 10 first-half turnovers, but their inability to capitalize in transition kept the game close.
SDSU's turnover issues continued into the second half. Right off the bat, the Aztecs lost possession due to a double-dribble violation from junior Alex Crain. This turnover seemingly ignited the Air Force offense, as the Falcons scored 21 third-quarter points, more than they had in the entire first half. 
The Falcons captured the lead late in the third quarter after an offensive rebound led to a second-chance layup; possession was immediately recovered after the inbounds pass was stolen and quickly turned into another two points. The Falcons briefly lost the lead late in the fourth quarter, but an SDSU turnover turned into a quick transition bucket and a clutch three-pointer from AFA's Riley Snyder, reestablishing the Falcon win. With their 56-48 victory, Air Force will advance to the quarterfinals to play the number one seed, the University of New Mexico. 
Unlike the tightly contested game one matchup, the second game of the day between Utah State University and the University of Wyoming was an absolute blowout in favor of the Cowgirls. 
Three starters and one player coming off the bench each totaled double-digit points for Wyoming. Scoring a team-high 17 points, senior Dagny Davidsdottir led the Cowgirls to a 69-41 victory.
Wyoming's win sets them up to take on the University of Nevada, Las Vegas in round two. The winner of the matchup could be a potential future opponent for Colorado State University if the Rams are able to advance to the third round with a win over Boise State University on Monday.
Editor's Note: A previous version of this article had the wrong team in the headline. The article has been updated to reflect the correct information.
Bailey Bassett can be reached at sports@collegian.com or on Twitter @baileybassett_.