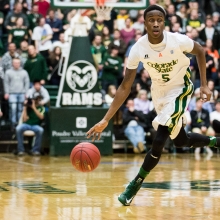 Since the 2010 season ended, the Colorado State University basketball team has seen three consecutive post-season tournament runs — one NIT bid, and two consecutive March Madness appearances.
Although the program has experienced continuous success recently, the 2013-2014 season brings a foggy trail to many Rams fans. A trail that looks promising, yet unpredictable at the same time.
In May, Head Coach Larry Eustachy lost all five of his regular starters to, well, the real world. Graduation claimed one of the most dominant starting lineups CSU has ever seen — one that led the team to a school record 27-game home winning streak. Now that all the starters from last season are on to their own lives away from Fort Collins, a youthful team full of new faces will take reign this season, led by fan-favorite veteran guard Jon Octeus.
"I am helping the (transfers and freshman) adapt to Coach Eustachy's style of play. We are focusing on improving our rebounding, and the new guys are adapting well. They are showing a lot of confidence," Octeus said.
This year's roster is host to many freshmen and transfers to Fort Collins. Forward J.J. Avila joins the team as a transfer from the U.S. Naval Academy. Forward Dantiel Daniels also chose the Rams after a stint with Southern Illinois. Two of the newest transfers to the program are (F/C)-Marcus Holt and (F)-Stanton Kidd.
"This is such a great opportunity to play D-1 basketball," said Marcus Holt, an Aurora, Colo. native. "I had a great season last year (at Paris Junior College), and it gave me the blessing to be here now."
"I chose CSU because it is a legit D-1 program and it has all the tools to help me become both a better ball player and scholar," said Stanton Kidd in an exclusive interview after announcing his transfer. "I watched (CSU) beat Mizzou, and I saw a ton of their games on TV, wishing I could play with them."
Joining the transfers as newcomers to Fort Collins are true freshmen (G)-Carlton Hurst of Aurora, and (G)-David Cohn of Illinois.
Hurst dominated headlines during his time at Aurora Central High School. He was recruited by a handful of schools, including names like Pepperdine, Saint Mary's and CSU's border rival, Wyoming. Hurst ultimately decided he was not ready to trade in his Aurora Central-green attire, committing to stay in state to wear the green and gold for the Rams.
"The whole idea of staying in Colorado meant a lot to me. Not many players from in town get to stay and represent a great program. So, this meant a lot for me to represent my home state," Hurst said.
Dwight Smith, who traveled with the team all of last season, is back to full speed after recovering from a deep ankle-sprain that forced him to redshirt last season. Smith will provide effective defense and rebounding to the 2-guard position when he claims his spot in the starting lineup.
Also rejoining the team for his sixth, and final, season is Jesse Carr. After a season-ending injury during practice early last year, Carr was awarded an extra year of eligibility by the NCAA.
With a brand new team and fresh starting five, yet to be announced, the CSU Rams enter this season with high expectations from fans. They are meshing well within practice, and are clearly pushing each other to improve defensively during practices this summer. It is hard to gauge where the team rests in pre-season rankings right now. We will find out how they compete when the season tips off this Fall in the newly renovated Moby Arena.
New/returning player jersey numbers:
#3-Marcus Holt
#11-Jesse Carr
#12-Carlton Hurst
#23-Stanton Kidd
#25-Dantiel Daniels
#31-J.J. Avila
#33-Dwight Smith
#34-David Cohn
Managing Editor Dillon Thomas can be reached at news@collegian.com.