CSU women's hockey is the school's best kept secret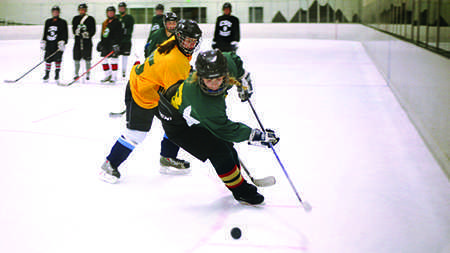 Any athlete can tell you how difficult performing well at their sport is when there is a lack of fan turnout at each event.
A club sport athlete can tell you their fan turnout is limited in comparison to the crowds that show up for varsity athletics. And any female club sport athlete can tell you how their turnout is simply inadequate.
Along with playing their opponent, fan support is a battle the CSU women's hockey team faces every time they take the ice.
What may be most surprising to the CSU community isn't that they have a women's hockey team, but they play in a higher division than the men's team does, with some of the best teams in the nation.
"We play in the ACHA just like the boys, but we're Division-I," CSU coach Alan Brown said. "We're off to the University of Wisconsin next week and we also play Robert Morris, Ohio State and Michigan shortly after. Big schools in unbelievable places where we go play."
On top of its ACHA games, CSU also sees ice time in the upper-division of the Women's Association of Colorado Hockey. The WACH matches allow the Rams to earn themselves more ACHA play by facing-off against their in-state rivals.
"The ACHA games are more important because those are the games that will give us a bid to go to nationals," junior forward Alex Kuhn said. "We're put at a disadvantage because we have to travel out of town for the majority of those."
The CSU women's hockey team is having to deal with proving itself because it is a club that is fresh on the scene. The program is entering its fourth season and forward Kelly Stabenau is one of the two seniors on the team who has watched it grow since day one.
"The first couple years we usually got dominated, but everyone stayed positive through it and kept coming back. We continue to grow a lot every year," Stabenau said. "This year looks more promising than it ever has before."
The Rams have been working hard both on and off the ice to keep their program from running out of their love for the sport. They volunteer their time with fundraisers and publicity on top of their multiple practices every week, some even on the same days.
"The majority of people don't realize that these girls are really dedicated," assistant coach Jill Vandegrift said. "They have a lot of heart and it's fun to watch them play."
If there were ever a time to get involved with CSU women's hockey, it would be now as the Rams take on CU-Boulder this Friday before hitting the road for other key ACHA games that will ultimately decide the team's ability to make their goal of going to nationals.
"Friday will be our most competitive game in Colorado," junior forward Bre Snyder said. "To get a nice send off before our trips and get a fan base going would be really encouraging."
Club Sports Beat Reporter Quentin Sickafoose can be reached at sports@collegian.com.