CSU hockey ready to bounce back for NoCo Ice Center debut against Utah State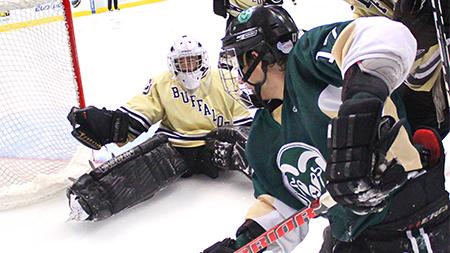 Now that October has arrived, most of us are ready for temperatures to drop, leaves to change color and hockey season to begin.
Unfortunately, the National Hockey League is currently locked out but CSU hockey fans are in luck because the season is already underway.
The Rams debut their new home rink this weekend at the NoCo Ice Center in Windsor. Friday night they will take on Utah State at 7:35 p.m. and the same time again Saturday while hosting DU.
"We moved this year, typically we play out of the EPIC, but we now play out of the rink at NoCo in Windsor. We're more involved with minor hockey over there, which is the future for our fans and players," CSU coach Kelly Newton said.
CSU had a rather impressive 2011-12 season, ending with a No. 3 finish in the west and 10th nationally in the ACHA Division II. Their season concluded after falling to the eventual national champion Florida Gulf Coast by only one goal.
"Last year we had a great finish and almost pulled off the biggest upset. I expect us to be there again this year and go ever further," Newton said.
The Rams have used the momentum from their performance last year to set the bar for this season. They strive to hit those same marks on their way to making new ones.
"The team is looking good, we've made some good additions this year including a solid goaltender and a couple young defensemen that have a lot of potential. We also added a lot of speed up on the forward side too," assistant captain Jamison Wicks said. "Every ice time we have together we get better and better."
Better being the key word — the Rams could use a little 'better' already. CSU hockey is off to a less than ideal start after a three game debut weekend in California sent them home wearing a 1-2 record to begin their season.
"We had a tough opening weekend last weekend that humbled us a little bit. But now we're focused and ready for Utah State. If we can beat them it will be a big statement for us," captain Paul Jenkins said.
The leaders of the team hardly seemed to be phased by the rocky start and have convinced the rest of the team to look forward to being able to redeem themselves.
"With our team, I fully expect to finish with the No. 1 or No. 2 spot in the west and to challenge nationally for a title this year in the Frozen Four," Newton said.
There is no doubt that the Rams have confidence in their abilities to get back on track as they encourage fans to be a part of the experience that will determine how the rest of their season will go.
"This weekend is gonna be huge. Really character games, kind of a gut check for our whole team," Wicks said. "Hopefully coming back home this weekend we can have a rockin' crowd and get the place excited and come out with two big wins."
Club Sports Beat Reporter Quentin Sickafoose can be reached at sports@collegian.com.