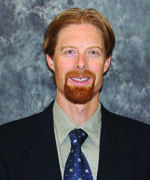 You won't find many basketball coaches dunking on their centers, and even fewer football coaches taking a shot over the middle from a safety, but new CSU cross country coach Art Siemers still finds time to burn up some road with his team.
"It makes it easier to relate to what the student athletes are doing," Siemers said. "It's easy to come up with a workout on paper, but how it transfers over into the actual accomplishing it, and how much it takes out of the athletes, I think still being a competitive runner helps you with that."
Siemers grew up in Bensenville, Ill. playing football and basketball, but got recruited by a high school cross country coach and started running competitively.
"I really like the fact that you're part of a team and they you can help you, but it's a lot of pushing within you," Siemers said. "It's really a sport where you can't can't hide behind your teammates. You use them for support, but there are no excuses."
Illinois State offered him a scholarship for cross country and track, and after his career as a Redbird ended, Siemers moved to Boulder in 1996, right when it was becoming the "Mecca of distance running" under former CU-Boulder coach Mark Whetmore.
Siemers' training in Boulder helped him place 8th in the mile at the 1999 United States Indoor Championships with a time of 4:01 and qualify for the 2004 Olympic trials in the marathon. It also taught him the benefits of training at altitude.
"You can't go quite as fast at altitude, and it takes longer to recover, but living here you get an increased production of red blood cells and that helps you utilize oxygen, so you can get a lot stronger here if you're smart about how you run," Siemers said. "We do a little bit less intense volume with a little more time to recover because we have to."
While he lived in Colorado, Siemers put his elementary education degree from Illinois State to use as a middle school math teacher at Jefferson Academy. He also coached high school cross country until he received a call from a professor at the Colorado School of Mines in 2001 saying a talented athlete needed additional help.
Siemers helped train the athlete, Martin Weiss, that season and he finished third in Division-II at the end of the year. He coached part time at Mines from 2002 until 2005, when they hired him as a full time coach.
During his tenure in Golden, Siemers coached 21 All-Americans and his teams qualified for nine NCAA Tournaments.
"His teams have done extremely well against teams that, quite frankly, have had more resources," CSU track and field coach Brian Bedard said.
Bedard offered Siemers the head cross country coaching position at CSU not only because of his track record, but to see what he could do with a recruiting budget and more resources.
Siemers informed his team at Mines of his decision to leave in a private meeting shortly before the news of his hiring at CSU was reported.
"We were disappointed, you never want to hear you're losing your coach right before your senior season.vBut at the same time I respect his decision, I understood where he was coming from," Mines senior Russell Drummond said. "The opportunity he took at CSU was a dream job kind of deal. He wasn't going to get that opportunity next year or five years from now. He had to take it when he could."
The most challenging part about making the transition from Division-II to Division-I is probably what excites Siemers the most–getting the chance to recruit and train with the best athletes in the country.
"That's every coach's dream is to work with the best athletes possible, and see if they can coach some Olympians or Olympic trials athletes," Siemers said.
Even if he gets them, you can be sure Siemers will still take some time to run with his athletes occasionally and stay competitive for as long as possible.
"Eventually I'm going to get slower and I'm going to have more injuries, that's what happens with age, so I hope I'm still able to relate to what they do even when I can't compete as well," he said. "I don't want to stop unless I have to."
Assistant sports editor Kyle Grabowski can be reached at sports@collegian.com.