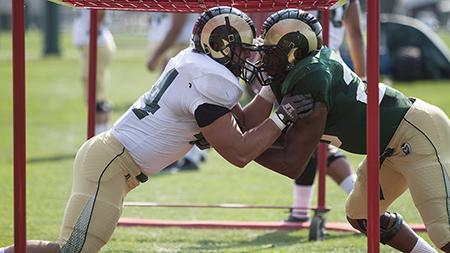 With the beginning of the season looming just days away, CSU will be looking to fill holes on the defensive line after three key contributors from the 2011 season left the team.
Defensive linemen Colton Paulhus and Nordly Capi were expelled before the season after being charged with an assault on a CSU freshman, and defensive end C.J. James transferred from the university in the spring.
Capi and James' departures leave many question marks regarding how CSU will make up for their pass-rushing abilities.
Still, the Rams have remained confident that the new defensive scheme coach Jim McElwain and his coaching staff have put together will be able to manufacture pressure for the team in 2012.
McElwain noted the improvement on the defensive side of the ball during last Thursday's scrimmage
"(They) gave (the offense) some trouble," McElwain said. "We're starting to develop some pass rushers, and that's good to see too."
With more positions open on the defensive line, opportunities have opened up for some Rams that may not have had the chance to play before losing so many key defensive linemen in the spring.
"I feel like everyone's stepping up and filling their shoes," defensive lineman Zach Tiedgen said. "We've got a lot of dudes coming up, so we're gonna be just fine."
One player who has stood out among his peers throughout practice this far has been Lanston Tanyi, a transfer student from Appalachian State with one year of eligibility remaining in his college career.
"The new guy we got, Lanston, he's a beast," defensive tackle Te'Jay Brown said. "I feel like he's gonna get after it, so I'm just excited as a fan to see it."
In order for CSU's defensive line to be productive in the upcoming season, they must coalesce as a unit, and become familiar with a whole new defensive scheme, a process that started during the beginning of spring practices in March.
"Our coaches have prepared us the best way they can," Brown said. "And just like coach (McElwain) says, we've got all the tools, so if something goes bad, if something breaks down, we can fix it. We feel pretty confident in what we can do."
Football Beat Reporter Andrew Schaller can be reached at sports@collegian.com.