Preseason All-Mountain West team members lead CSU volleyball in 2012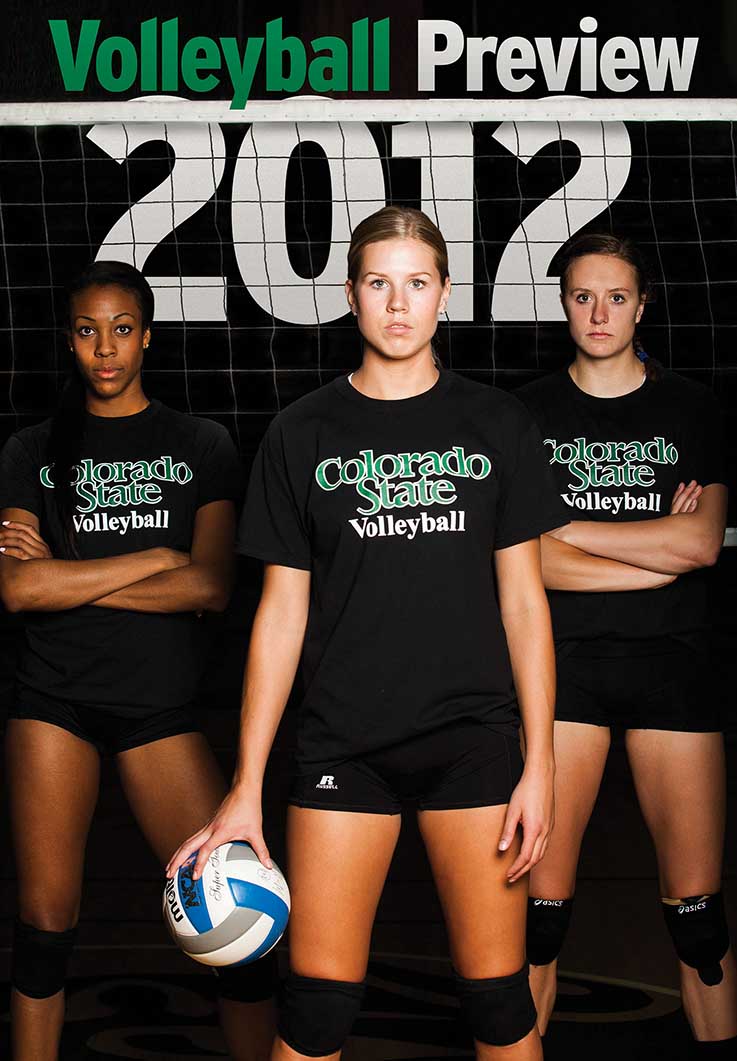 For all its achievements and successes in 2011, three bad losses kept the CSU volleyball team from hosting matches in the NCAA tournament.
Coach Tom Hilbert wants his team to stay focused in the games it should win in 2012 with the ultimate goal of making a deep NCAA tournament run.
"We want to be playing our best volleyball at the end of November," he said. "We need to take care of business especially when we get out on the road. We need to play with maturity."
Having four seniors selected to the 2012 All-Mountain West Preseason Team should provide the type of leadership necessary to thrive in any hostile environment.
Middle blockers Breion Paige and Megan Plourde, libero Izzy Gaulia, and opposite hitter Dana Cranston made up more than half of the seven member team, while Cranston was named Preseason Co-Player of the Year along with Wyoming's Jody Purdy.
"It definitely was a surprise, I wasn't expecting it at all. It's a huge honor and it speaks to the people I'm put around every day and our program," Cranston said. "There's always a target on our backs because of the name we wear on our jersey, and either way we have to go out and prove it on the court."
CSU should excel as a blocking team in 2012. Last year senior middle blocker Megan Plourde lead the NCAA in blocks per set, and should help anchor the Rams' defense in the middle with Breion Paige.
"Working with [new blocking coach] Matt [Botsford] we really focus on the little techniques we needed to be reminded of," Paige said.
Hilbert does want his team to smooth out some serve-receiving issues by Friday's opener against Virginia, however, in addition to improving the rhythm between setter Deedra Foss and the team's middle blockers.
"We didn't spend a lot of time with them early and now they're struggling a little on timing," Hilbert said. "It's a normal phase you go through over the course of a season. You get them under the lights under a crowd and they'll be fine."
Their schedule will certainly present ample opportunities for the Rams to prove their position as the preseason pick to win the Mountain West, as CSU plays six teams that qualified for last season's NCAA tournament.
Defending national champion and preseason No. 1 team UCLA, Hilbert's alma mater Oklahoma and No. 11 Pepperdine will visit Moby Arena while the Rams will play Tennessee and Wichita State during the Shocker Volleyball Classic and visit Northern Colorado in the middle of November.
"We have four great seniors, and really, the schedule is a reward to them. They want to play these teams. That's why they came to Colorado State: to be nationally competitive and play some of the best teams in the country," Hilbert said. "I think it's a testament to how good they are, and that I believed, when I made this schedule, that we needed this type of competition in non-conference."
After closing out that brutal stretch, CSU begins conference play on September 20 at New Mexico with the ultimate goal of winning a fourth consecutive Mountain West title.
"It would be such an amazing thing for all of us to have that. If you look at Tom's past he's had such an amazing program for so many years," Plourde said. "We need to focus on the championship, but focus on the teams we are playing that week to prepare for them and play our game."
Assistant Sports Editor Kyle Grabowski can be reached at sports@collegian.com.