Texas TE Dalton Vondra verbally commits to Colorado State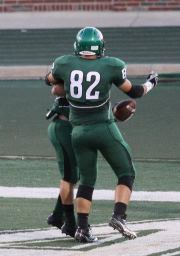 Mike Brohard at the Reporter Herald has reported that Dalton Vondra, a senior at Kennedale High School in Texas, has verbally committed to the CSU football program. This makes Vondra the sixth player to verbally commit to CSU this offseason, according to Brohard.
Brohard wrote that:
Dalton Vondra, a 6-foot-5, 260-pound tight end from Kennedale (Texas) High School, let CSU defensive line coach Greg Lupfer know of his intentions. Vondra also received offers from Yale and UTEP, but chose the Rams without having been in Fort Collins since he was 12 years old.
and quoted Vondra as saying:
"Fort Collins is a beautiful place, and I also like the new coach coming in," said Vondra, who plans on making two trips to the school before his high school season ends, one an official visit. "I think everything is going to turn around at Colorado State, and the coaching staff coming in, the work ethic they have, I think the season coming up this year is going to be very successful, and I want to be part of that success."
Click through check out Vondra's ESPN scouting video.
Related articles