LTTE: Harassment of pro-life students needs to stop
Guest Author
November 10, 2021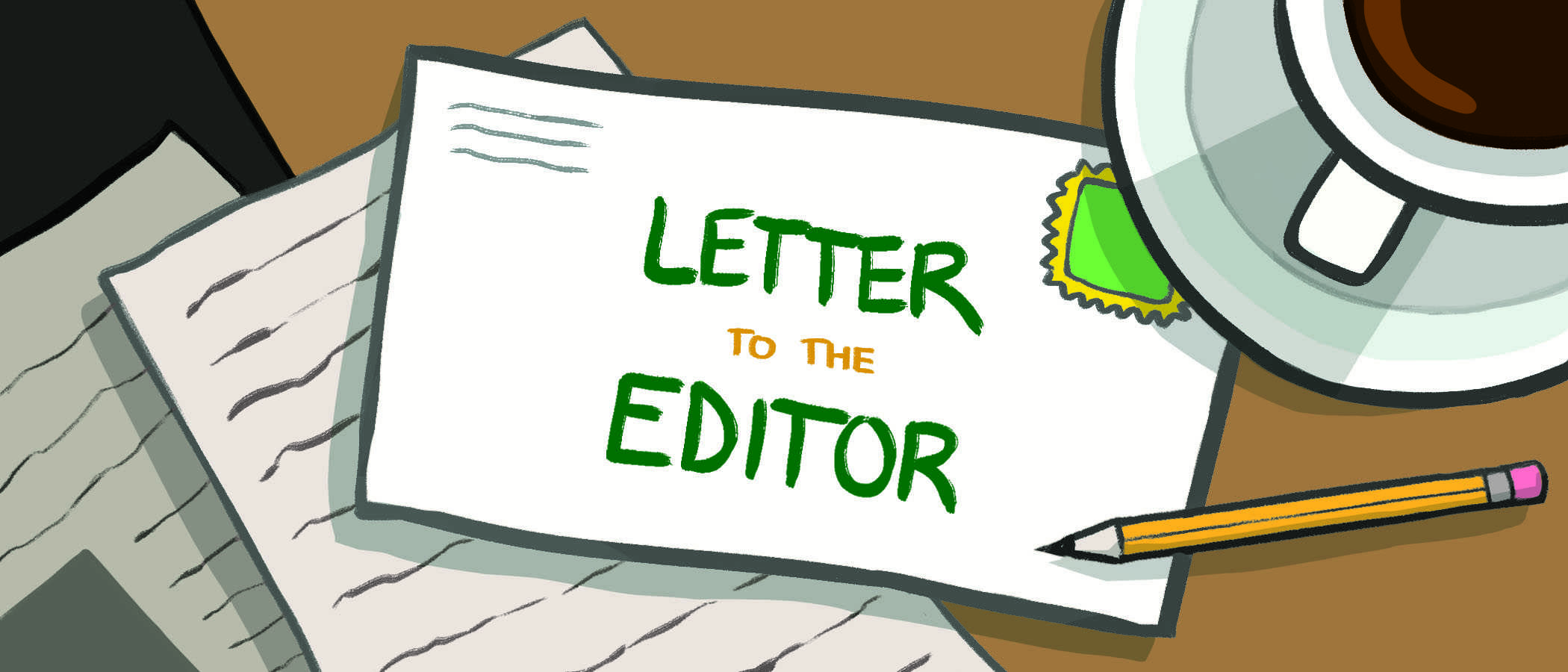 Editor's Note: All opinion section content reflects the views of the individual author only and does not represent a stance taken by The Collegian or its editorial board. Letters to the Editor reflect the view of a member of the campus community and are submitted to the publication for approval.
Students for Life is a secular, nonpartisan pro-life Registered Student Organization at Colorado State University. We are committed to respectful dialogue with our peers. Unfortunately, our members are rarely treated with the same respect, and bullying pro-life students on college campuses has become socially acceptable. An official statement from SFL at CSU is long overdue.
To be clear, SFL loves CSU. This University has championed diversity since 1870 and has provided resources for students across all demographics, including those who are pregnant and parenting (the same demographic our club aims to support).
CSU's main campus currently offers 18 lactation rooms for nursing students, on-campus child supervision for student parents, baby supplies through Rams Against Hunger and so much more. This commitment to inclusion is applaudable; yet this same commitment to inclusion is what makes the unfortunate treatment of pro-life students by other CSU Rams so disconcerting.
SFL displayed a poster on a public bulletin board in the fall of 2020. Abortion advocates on campus stabbed push pins into the heart representing the baby and signed it as "pro-choice."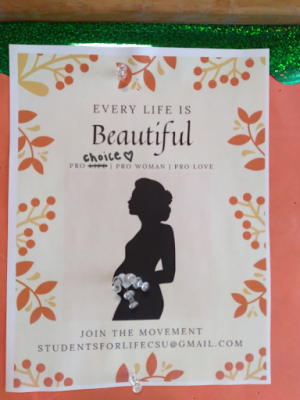 CSU Young Democrats publicly accused our group of being antisemitic despite the fact our club has Jewish members and partners with the Christians United for Israel chapter on campus, a group committed to fighting antisemitism on college campuses. 
Pro-choice advocates on campus wrote a message in chalk stating, "Your pro-life propaganda is NOT welcome HERE." These actions imply that pro-life students are not welcome at this University, that our opinions are somehow less than other opinions.
What's worse is that these are not isolated events. They happen all the time.
Recently, we hosted our Cemetery of the Innocents display, a University-sanctioned event. The purpose of the display was to encourage civil discourse concerning the humanity of preborn children and the safety of their mothers. Our display was repeatedly vandalized and students repeatedly attempted to steal our flags and tear our posters for the five hours we tabled on The Plaza. 
SFL either respectfully reads chalk expressing different opinions or chalks our own messages elsewhere. As usual, our actions are never reciprocated. Two students scrubbed away chalk written by SFL (chalk paid for with student fees) that stated an overwhelming majority of biologists believe life begins at fertilization. When SFL members confronted these students, they claimed SFL's posters "are literally about taking away people's autonomy" but were unable to name a single SFL poster that communicated that message.
Our president offered these students chalk to write their own messages beneath the SFL chalk as an alternative — again, both students refused. When an SFL member inquired whether these students would treat chalk from The Brazen Project equally, both students refused and said, "The Brazen Project is not about telling people what they should do with their bodies."
We love this University — its faculty, its message and its students. We are the pro-life generation, and we deserve to have a voice on this campus."
This barricaded language does not reflect our University's commitment to diversity and inclusion. One student even stated the poster incident mentioned earlier was "kind of funny." This language is inappropriate and makes light of a serious issue.
SFL knows, based on conversations we have with our peers on The Plaza, that many students are experiencing disenfranchised grief from miscarriages or elective abortions. Stabbing push pins into the heart representing a child on a poster is an insensitive and cruel reminder to these students.
Sadly, these attacks are not isolated to this University. On Oct. 2, a group of SFL employees peacefully counter-protested the Denver Women's March at the Colorado State Capitol. Despite the peaceful counter-protest, the response quickly turned violent.
Our West Coast Regional Manager Brei Brooke was eight months pregnant at the time and detailed the experience on her Instagram: "As time went on, it got to a point where we were completely mobbed by thousands of people. We were yelled at in our faces, spit on, pushed, kicked, hit, our stuff stolen, ripped down, harassed and threatened with the most insane words I have ever heard in my life. I was told that they hope my baby dies, they were going to follow us home, go kill ourselves, among many other nasty things that were said to us."
The purpose of this article is not to shame anyone but rather to bring awareness to the socially accepted harassment of pro-life students on college campuses. Our University is better than this. One thing is for certain: Despite these attacks, our group is not going anywhere. We will not stop until every woman on this campus knows she is loved and supported throughout her pregnancy and throughout her parenthood.
We love this University — its faculty, its message and its students. We are the pro-life generation, and we deserve to have a voice on this campus.
Laura Rencher
President of Students for Life at CSU
Letters may be sent to letters@collegian.com. When submitting letters, please abide by the guidelines listed at collegian.com.