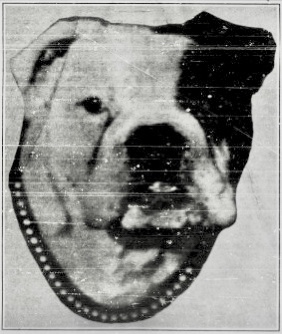 Editor's Note: All opinion section content reflects the views of the individual author only and does not represent a stance taken by The Collegian or its editorial board.
CAM the Ram has been a fan favorite of Colorado State University students since his tenure as mascot began in 1954. There's nothing we enjoy more than watching our favorite horned ruminant stampede across the stadium before a game, but before CAM stole the hearts of thousands, there was another animal representing our school — a short, slobbery bulldog named Peanuts.
Chances are that many of you have never even heard of Peanuts. Upon reading the headline, you may have found yourself wondering, who in the world is Peanuts the dog? Peanuts represented our fine school from 1913 to 1918 — unofficially but still enthusiastically.
According to a 1940 entry in The Collegian, Peanuts was purchased from a pet store in Denver by a "Mr. Crabbe" and brought back to Fort Collins in 1912. After a few weeks, Crabbe sold Peanuts to a man named Floyd Cross, who introduced the dog to a campus fraternity.
Peanuts was initially given free rein of CSU campus and Fort Collins. He got himself into a mess of trouble, including chasing students and biting a milkman, and even faced jail time for refusing to leave a random car he found suitable for a nap.
Peanuts caught the eye of CSU students and faculty alike on Sept. 15, 1913, when he strolled into chapel exercises. Delighting everyone present — including the CSU president at the time — Peanuts disrupted a cornet solo performance before finding his place in the audience.
The Collegian described Peanuts as graceful, fearless and loyal in a recounting of his performance and suggested that he would soon be christened as the football team's official mascot. According to The Collegian article from 1918, Peanuts was never officially christened but was heartily adopted by everyone on campus.
Peanuts began leading halftime parades sometime in 1914, and over the next few years, Peanuts attended several home football games, serving as the Aggies' mascot in two football championships. During these years, Peanuts boosted team morale and passionately cheered — or rather, barked — on the Aggies from the sidelines.  
Peanuts also served as the unofficial mascot to the Colorado Army National Guard Field Artillery unit Battery A. When our military called on Battery A's service in World War I, Peanuts answered the call and mobilized with the "battery boys."
The Central Powers wouldn't have stood a chance against Peanuts, but his time in the military was cut short. The Army would not allow Peanuts to go overseas with the Battery A soldiers, so he was sent back to Fort Collins with the wife of the then-Battery A commander, Roy Coffin.
Students welcomed back their wartime hero with open arms, but the peace wouldn't last long, with Peanuts meeting his untimely end in 1918.
Following the poisoning of another fraternity mascot dog named Bo-bo, Peanuts was found poisoned by an unknown perpetrator on April 28, 1918. His obituary, which included a poem, said, "There is no use wasting good American cusswords on the person who did the trick."
Rumor has it that this assailant was acting on behalf of the University of Colorado Boulder, but there is no definitive proof of this.
Following Peanuts' death, plans were made to taxidermy CSU's beloved mascot to preserve his memory, but due to hair slippage — an unsightly issue in taxidermy where hair falls out of a taxidermized animal due to bacteria — this plan was scrapped.
Peanuts' legacy as CSU's beloved — and unsanctioned — mascot was mostly forgotten in the century since his demise, but he deserves to be remembered for his fervent fighting spirit, loyalty to CSU athletes and soldiers and bold personality. CAM is amazing, but can you imagine the joy of running into a character like Peanuts on campus?
Nathaniel McKissick can be reached at letters@collegian.com or on Twitter @NateMcKissick.