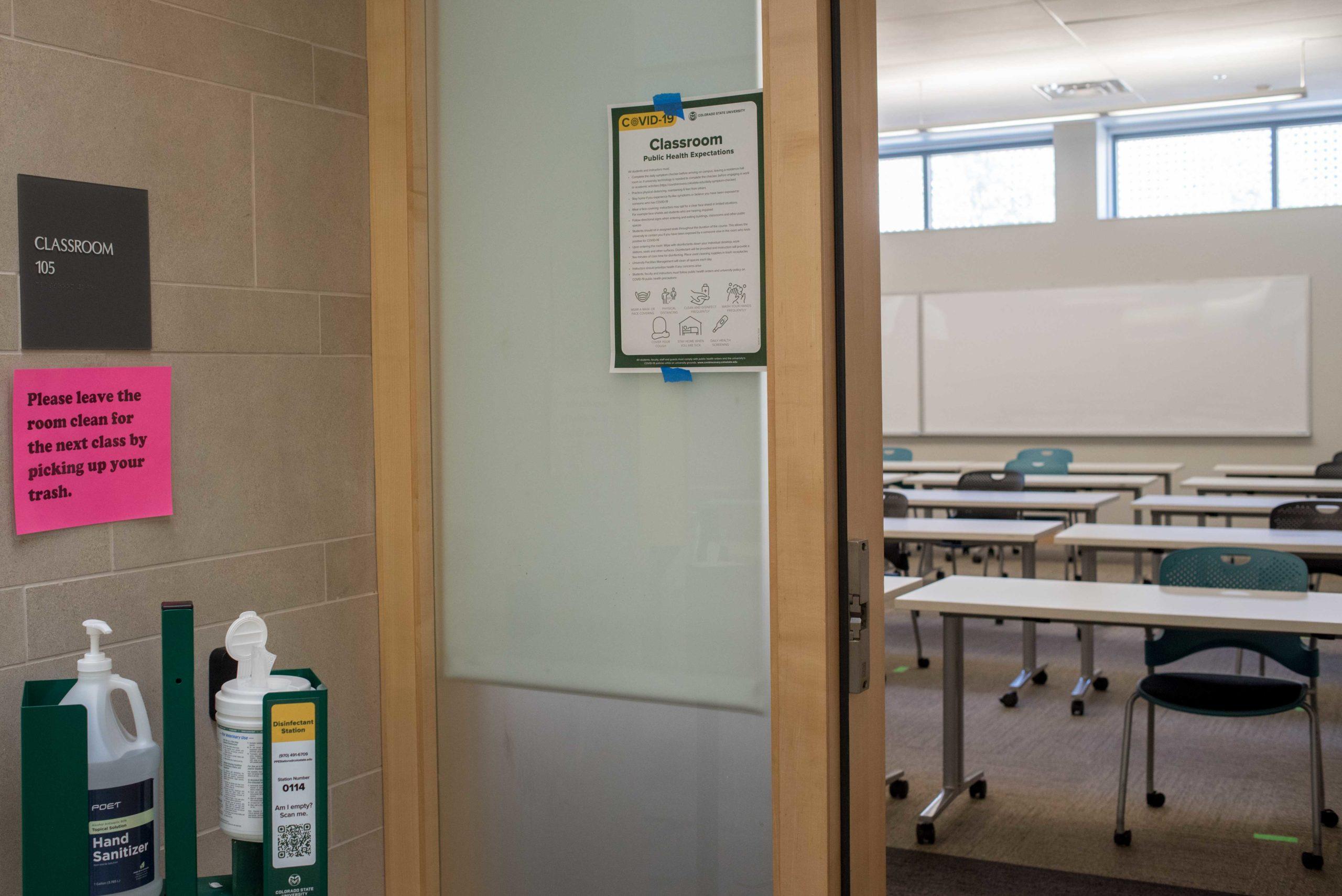 Editor's Note: All opinion section content reflects the views of the individual author only and does not represent a stance taken by The Collegian or its editorial board.
When schools across the nation shut down in the spring of 2020, students faced a new world — one that had never been dealt with by any of their predecessors. Students would now have to continue their education remotely, attend class via video calls and complete tests from their bedrooms. 
That March, many students believed this new reality to be an interim fix and that they would soon be back in class, but this could not have been further from the truth.
Now, we have finally witnessed the rebirth of traditional, in-person schooling. The Lory Student Center that was a ghost town for the better part of last year is now bustling with activity; The Plaza is once again packed with pedestrians. 
For many, this return to normalcy — albeit with a few caveats — is a breath of fresh air. However, many students did not take into account just how much their mindset toward school had changed during the nearly year-and-a-half break from classrooms.
Being forced into adaptation by the situational constraints of the pandemic is something that has had quite an impact on students, especially in ways that are often subconscious and unnoticed.
In 2020, we were all told to change everything about the way we approach education, including the social aspect, immediately and with no chance to acclimate. Now we are told the exact same thing — that we must suddenly snap back to the way we did things before our compulsory adaptation. This back-and-forth has consequences, and yet they are seemingly both positive and negative.
In a recent exploration of this phenomenon by The New York Times, this indecision between the joys of returning to normalcy and realizing how out of practice we are at existing within that normalcy was reported on a national scale.
Many students reported being anxious at the pace at which classes were resuming, with the enormous differences between the more lax Zoom classes of last year and the often rigorous in-person lectures of the post-Zoom era. Beyond this, many students also reported feeling as if they had almost forgotten how to take tests in person.
I believe this is the true takeaway from examining the pros and cons of this school year: that it is both positive and negative, and that means it is confusing, but that is OK."
Talking with students enrolled at Colorado State University, I found many of these concerns to be held by some of Fort Collins' own.
"Tests have definitely been the hardest thing to get used to," said Naia Vermeulen, a sports management and journalism major. "I just feel like so many of my teachers replaced traditional test-taking last year with other types of assignments that the return to studying with flashcards … has been (really) hard."
I was also introduced to some new struggles, like the difficulties of readjusting to an in-person schedule, as outlined to me by business major Trevor Young.
"When classes were all online, a lot of my teachers didn't even have daily Zoom calls, … so it just felt like there was so much more time to do homework during the day," Young said. "Now though, I spend most of my day in class or working, and I've been struggling to stay caught up."
However, both students agreed that being back to classes is best.
"Either way it's better, I think, because I just feel like I'm actually learning again," Young said.
Vermeulen agreed, "I feel so much more engaged with life this year now that I'm back, surrounded by students that are going through the same kind of stuff as I am."
This, outside of mere opinion, is the truth. I don't think it was that mentally healthy for us to be cooped up inside. Of course, it was completely necessary in order to combat the pandemic; however, I agree with the students I spoke with — that it is, at the end of the day, better for us as a student body to be back in the classroom.
With that said, it is important to note that it is not going to be an easy road to reacclimation, and the struggles outlined in both The New York Times report and my own findings are very much real. The mental toll and anxiety that can come from such a forcible change in lifestyle are not to be ignored. 
But I believe this is the true takeaway from examining the pros and cons of this school year: that it is both positive and negative, and that means it is confusing, but that is OK.
It is more than OK to be overwhelmed — scared, even — about the prospect of completing this school year and what lies beyond it because, as one of our own students put it, we're all going through the same stuff, and we should find solace in that camaraderie. 
JD Meltzner can be reached at letters@collegian.com or on Twitter @jd_meltzner.