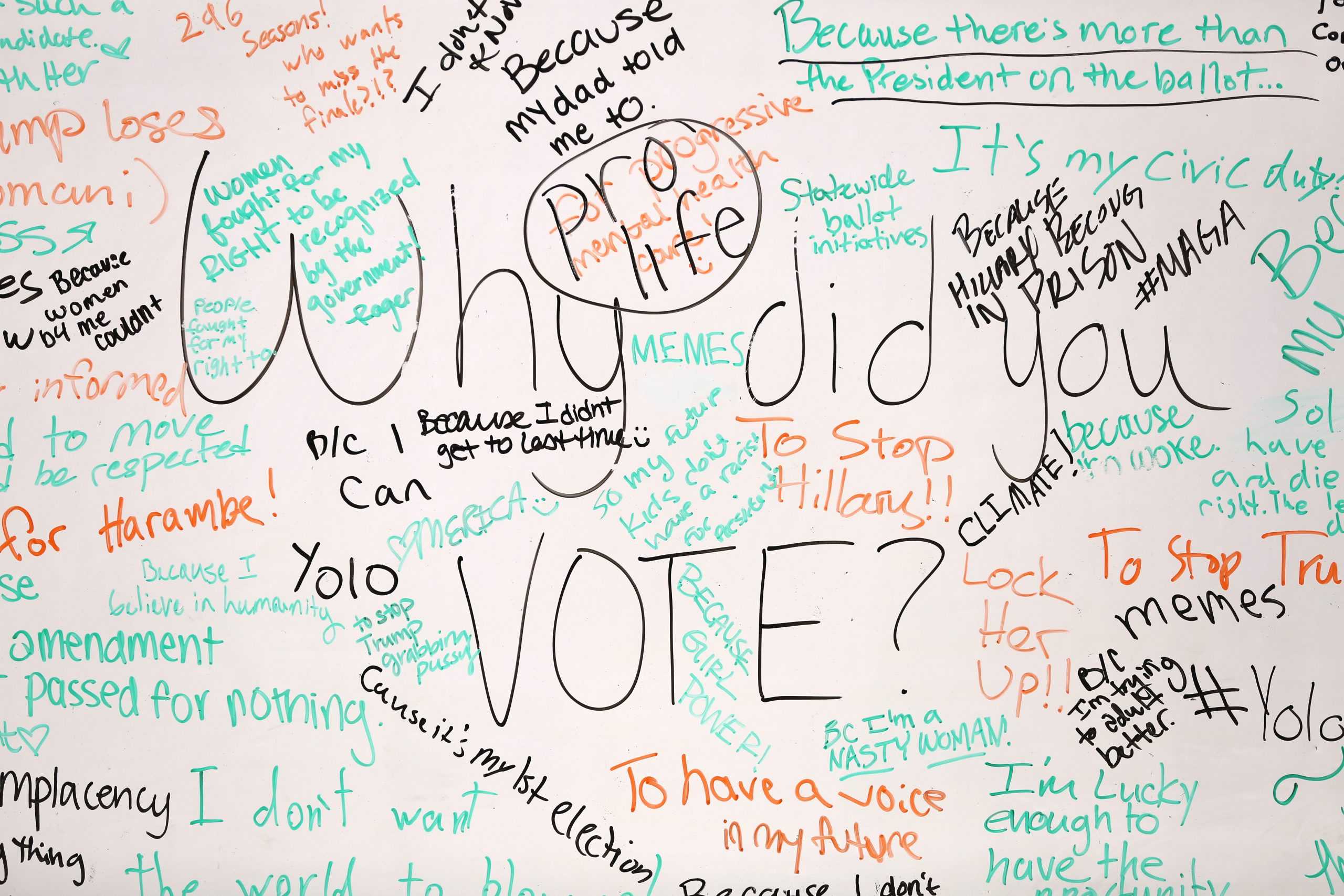 Editor's Note: All opinion section content reflects the views of the individual author only and does not represent a stance taken by The Collegian or its editorial board.
Now that Election Day has passed and the president-elect has been declared, for the most part, it's time to think about what the next four years are going to represent and why. There are a lot of issues that still need to be addressed, and civic duty doesn't end with voting for a new president.
For the country, this next presidential era needs to be about representation, yet for us as individuals, it needs to be about reflection. With all of the injustices that have erupted in this country in the last decade or so, as citizens, it's important to be mindful about who we're voting for and why. 
While we spend this time trying to repair the wrongs that have plagued our nation, it is also critical to consider what might inspire us, as students, to vote, as well as what we can do to stay politically active and aware of current events. 
As a community, staying politically active will be pivotal in defining the outcome of this new era. What makes this particular administration so crucial is who it impacts and in what capacity.
In other words, what can we do as a community to make sure that the next four years are relatively secure and safe for people who were unprotected during the last one?

To vote is a privilege, one that we can utilize for the good and benefit of those who may not have that same privilege."
When we vote, we vote for our interests and, more specifically, how policies and candidates align with our values. For many students, our interests are clear: Some of us might be struggling with food insecurity, others might be struggling with the rising cost of living here in Fort Collins and we all, for the most part, are not looking forward to paying off student debt for the next 40 years.
Therefore, I pose the question "What inspires us to stay politically active, and how could this impact our future?"
Personally, I don't allow my values to reflect in my voting. That is, personal beliefs shouldn't be the main motivator in choosing to be politically active, as one's religious or personal values do not reflect the true interests of the nation. Therefore, I allow tangible factors to influence who I vote for and why. These factors range from personal experiences, others' experiences and the fears that I face in this country being a young woman of color. 
To vote is a privilege, one that we can utilize for the good and benefit of those who may not have that same privilege. If we are to make any progress as a community, it is critical that our choices reflect not just ourselves but what's just, fair and equal.
As citizens and members of the academic community, we have a civic responsibility to stay mindful about how our choices may impact our loved ones, our own well-being, basic human rights and the struggles of those less fortunate than we are.
At the same time, it is also important to recognize the privilege that we have as students on a college campus. Education may be a basic right ingrained in our constitution, but that does not mean that it is affordable to everyone. As students, it would be a waste of time and resources to vote in ways that would not benefit the community, considering that college is all about building a community that we can learn from.
Looking back on this year, so much has happened. It is almost hard to believe that the lockdown was just a couple of months ago. This semester, specifically, was largely characterized by the election, the ongoing pandemic and a new way of living to which we had to adapt. 
There's more work than ever to be done, but a moment of pause and relief is warranted here for so many Americans who deserve it after so much fear. It's nice to see a celebration after all these years."

— h (@halsey) November 7, 2020
As we get ready for this much-needed break, let's not forget all of the work that we put in as a community to raise awareness about different social justice issues this year. Now is not the time to rest, but to ready ourselves for the future and to make sure that our rights are protected as a community. 
Let's use this same energy that we used to protest police brutality this summer and the energy put into getting such high levels of voter turnout among our peers to progress as a community for a better future.
Joslyn Orji can be reached at letters@collegian.com or on Twitter @lazy_svndae_.