Fredrickson and Hodge: It's time to address how racism affects health
Michelle Fredrickson and Jayla Hodge
February 28, 2018
Editor's Note: All opinion section content reflects the views of the individual authors only and does not represent a stance taken by the Collegian or its editorial board.  
As Black History Month draws to a close, it is important to keep the conversations going beyond the timeline of a single month. The issues associated with racism deserve attention year-round. For instance, racially minority groups experience different health issues that span far beyond one month–they are realities minority groups live with every single day.
Coronary heart disease is a major killer in the United States, and groups experiencing racism are likely to develop it faster than majority groups.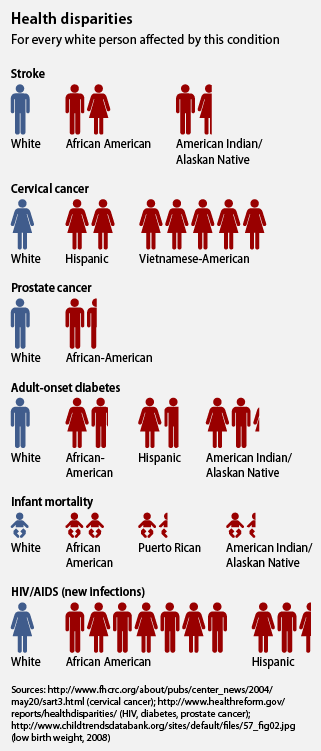 Day-to-day stresses of racism against minority groups, researchers have found, increased rapid development of coronary heart disease. The health effects of racism are not limited to this one condition – from low birth weight to cancer to mortality rates, the health effects of racism are widely felt.
This can be a result of increased stress, which is a day-to-day reality for those who experience racism. Race acts as a social determinant of health. Social determinants of health are factors like income, ethnicity, marital status, education that contributes to environmental conditions, access to healthcare, quality of care and more.
Institutionalized racism in America means people of color routinely have lower-quality care provided to them than whites and are much more likely to be unable to access care.
This is a well-documented phenomenon. Even though individual physicians are not overtly racist themselves, they operate within a system built upon racist foundations.
Historic disenfranchisement of people of color has a profound negative impact on health, and it is built in deeply. For instance, people of color are more likely to be impoverished. They are more likely to have low-paying jobs that do not provide health insurance. They are also more likely to live in food deserts, or areas without access to fresh and healthy food. 
It is important that specific health and mental health concerns facing a particular racial group are addressed when diagnosing patients. A 2015 report in JAMA Internal Medicine confirms racially marginalized people face and are affected by racial biases in the health field.
"Those in other minority groups receive fewer procedures and poorer-quality medical care than white individuals," the report reads. "These differences existed even after statistical adjustment for variations in health insurance, stage and severity of disease, income or education, comorbid disease, and the type of health care facility. Very limited progress has been made in reducing racial/ethnic disparities in the quality and intensity of care."
Health workers in all fields have a duty to acknowledge this in both practice and education. Healthcare professionals must not be colorblind, because we do not live in a post-racism society and racism actively harms people's health.
Michelle's Experience
As an epidemiologist in training I consider race in every health outcome and there is almost always a discrepancy. In my time in public health, I have seen ignorant people trying to say that this is evidence of biological differences, when in reality these discrepancies are socially caused.
In public health, we work on primary prevention. This means identifying the source of health problems and working to solve those problems before they happen. Racism is one of those sources. Because of that, racism is a public health problem, and public health professionals need to work toward solving it.
In my education, I have spent a great deal of time discussing racism as a social determinant of health, and I've seen it in action both in the U.S. and in South Africa. We have more than enough research proving that racism has a negative effect on health.
It's time for public health professionals to take this outside the classroom, and make dismantling systemic racism a public health priority.
Those in other minority groups receive fewer procedures and poorer-quality medical care than white individuals. … Very limited progress has been made in reducing racial/ethnic disparities in the quality and intensity of care.

– JAMA Report
Jayla's Experience
Marginalized people face health issues from chronic stress, especially those navigating historically white spaces. Mental health issues like racial battle fatigue and extreme anxiety are prevalent. These detrimental mental health issues come from functioning in a society that consistently pressures us to downplay our cultural identities.
It can be difficult to seek help or even recognize the symptoms of chronic stress, depression and anxiety, especially when coming from a community stigmatizes mental health issues. After months of feeling the effects of racial battle fatigue and stress at Colorado State University, my physical health started to suffer as well. Luckily, I had access to resources through the CSU Health Network, and it wasn't until then I learned how much mental health can impact physical health.
The U.S healthcare system has a visible systemic racism problem, and it minimizes and diminishes health issues of marginalized people. Black people are not more susceptible to sickness or biologically deficient, as some doctors used to believe. Rather, Black people face health concerns from generations of neglect, lack of sufficient healthcare, access to nutritional food, cultural taboos regarding mental health and the effects of chronic stress.
The fight for equality is not over until we have a healthcare system that supports all American citizens, regardless of race and socioeconomic status. The bias, stereotypes, and discrimination that exist in the real world also exist in hospitals, and it is costing people their lives. 
Michelle Fredrickson can be reached at letters@collegian.com or online at @mfredrickson42
 Jayla Hodge can be reached at letters@collegian or online at @Jaylahodge