Rodenbaugh: Kevin Spacey was the author of his own downfall
Mikaela Rodenbaugh
November 9, 2017
Editor's Note: All opinion section content reflects the views of the individual author only and does not represent a stance taken by the Collegian or its editorial board. 
Anthony Rapp stepped forward on Oct. 29 to describe an incident that he had with celebrity Kevin Spacey when he was 14. In response, Spacey put out a statement apologizing for any harm to Rapp, laying out the excuse that he was drunk, and later in the same statement changing the subject to come out as gay.
In short succession, House of Cards announced Spacey's suspension from the team, new accusations of sexual misconduct were levied against Spacey, many members of the LGBTQ community protested the association and the reputation of the actor had been shattered.
Like others before him, in the wake of #MeToo and the allegations of Harvey Weinstein and other elites in Hollywood and the media, Spacey is guilty in the court of public opinion. And every step of the way, Spacey has deserved it.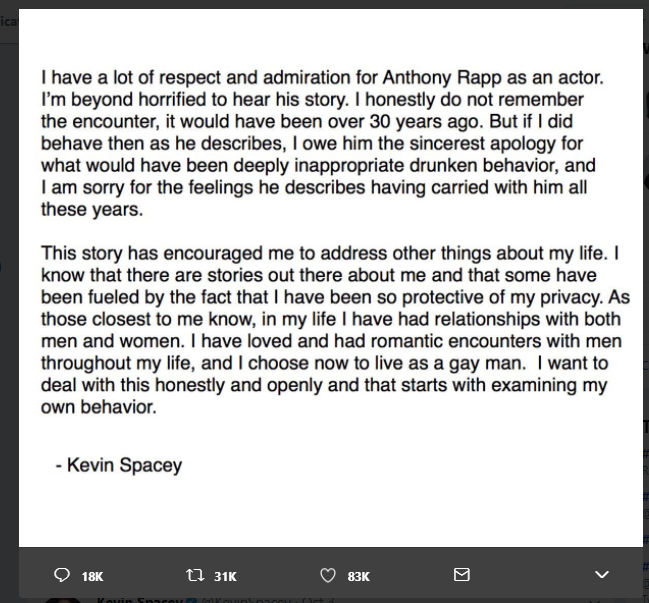 One of the largest issues with Kevin Spacey's response to the allegations was his decision to turn it around into something about him by coming out as gay. Not only was his wording about choice problematic, but the larger issue with this bait and switch style response was the way it painted a picture of the LGBTQ community.
Given the broader context of historical stereotyping that gay people are synonymous with predators, this statement was particularly damaging because Spacey chose a moment he was accused of sexual behavior towards a minor as a moment to out himself as gay. In response several famous voices came forward.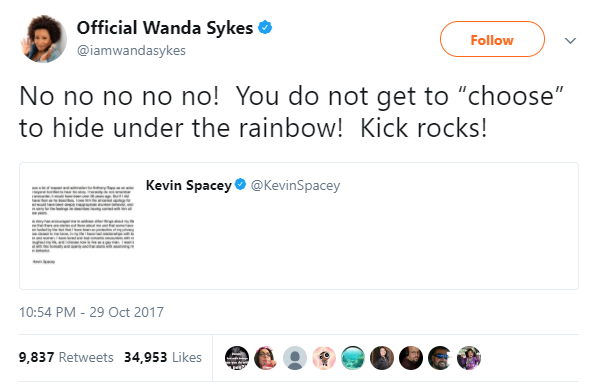 But in the midst of fans finding out that Kevin Spacey's real- life behavior is actually more like the behavior of the fictional character he plays on House of Cards, Frank Underwood, some good has come of the fallout.
Never before in my life have I witnessed a climate in which victims of sexual abuse have been so candid, so encouraged, and so accepted to share their stories as I have in recent times,. Yet, there is still a long way to go. Victim blaming is still happening, but I am heartily encouraged to see the amount of times that the public has decided to believe victims, instead of rushing to discredit them. A great example of this changing response is in the Old Vic theatre's response to the Spacey scandal:
"Whilst we are not currently in a position to comment on specifics of what may have taken place in the past, we want to re-emphasise that anyone who has concerns about this matter should come forward and share this with us on confidential@oldvictheatre.com." -Old Vic Theatre
This statement is a massive step forward as it showcases the new energy and lengths that institutions are going to in order to help victims get resources and to believe victims when they come forward. Given the rarity of false allegations of sexual assault, there are signs in the wake of conversations like #MeToo, many are ready to step forward and join a broader conversation about the historically silent reality of sex abuse.
New movements are also being born out of this cultural awakening to rape culture. In France for example, the movement #OutYourPig has stemmed from the #MeToo conversation as a new way to hold abusers accountable for their sexual abuse, finally. 
Ultimately, even as a former fan of Spacey's work, it is important to hold him accountable for his abusive behavior. At some point we have to bury our heroes, and accept that those who transgress these boundaries do not always look like villains, they look like everyone else.
While perhaps Spacey cannot be held accountable to the fullest extent of the law, the people have every right to out him as what he is—not as a gay man, but as a perpetrator of sexual misconduct.
Mikaela Rodenbaugh can be reached at letters@collegian.com or online at @mikarodenbaugh