The Vice President of Research and his job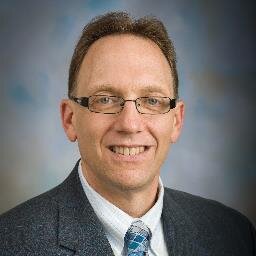 The Vice President of Research at Colorado State University is Dr. Alan Rudolph. He has worked, and continues to work on, quite a few research projects himself. Just looking around his office one can find various pictures of these projects. His work ranges from medical applications of biological sciences to robotics.
Alan has quite a bit of experience with robotics and prosthetics even though he originally started as a zoologist. He's helped a variety of federal agencies, like DARPA, create robots based off of animals. A similar high profile project he worked on was the Big Dog project. It was owned by Boston Dynamics. Google has since taken ownership of the company and the robot.
One of Dr. Rudolph's longest ongoing projects is the Walk Again Project. Doctor Rudolph and the team have been working on this project for over a decade. The goal is to fit a paraplegic, someone who is paralyzed and cannot use their legs, with a robotic exoskeleton. The exoskeleton responds to the user's brainwaves to activate the skeleton's legs. The team that Doctor Rudolph has worked with plans to unveil this technology at the next World Cup. A teenager
wearing the exoskeleton will have the first kick of the game. Nearly one billion people will watch the World Cup and the groundbreaking kick off.
I think it will give people a lot of hope that there's new technology coming and new capabilities coming, that will offer the ability for something as simple as helping somebody walk again," Allen said to me. CSU has helped the project by making interfaces for the helmet in the 3-D printing lab. Doctor Rudolph will be walking down the field in Brazil on June 12, 2014, as hope takes to the field.
This man of many talents somehow finds himself in the academic world of Fort Collins. What he enjoys about his position at CSU is the ability to encourage research. Alan told me, "Being close to discoveries and having the ability to help people achieve their dreams and passions about research, and seeing those turned into ways to solve societal problems, is really exciting."
Faculty members are the primary investigators and generators of ideas for research. Those ideas make it to Doctor Rudolph's office in a more concise form. The research office generally tracks progress, helps faculty gain support, and facilitates interactions with sponsors who fund research. These sponsors can range from the federal government to private companies. It's a lot to handle. Trying to keep track of all of the research at CSU takes diligence. The amount of data universities have to sift through has led to a field of research known as Big Data. There is simply too much information to keep perfect records of everything at the office. This is one of the downsides to having so many ideas running around. Alan prefers to see the bright side of this issue, "We have very highly motivated, energetic, ambitious and friendly people interested in doing research."
CSU is also gaining a reputation for its advocacy of undergraduate research. There are plenty of opportunities for students to work in labs at CSU. Dr. Mark Brown is the head of undergraduate research. If you're interested in being part of this academic activity, and gaining experience at a lab, you may want to send Dr. Brown an email. Dr. Rudolph believes this undergraduate involvement will help CSU continue to grow its physical presence in the future as online education increases. The future of research at CSU looks bright as the vice president of research not only encourages the faculty; he also pushes himself to explore new frontiers.