Whether it's from my family, my local comic book store, or Tumblr, I am always bombarded with new graphic novels and comic series to read. But with a full course load and two part-time jobs, I have to queue up quite a few. So if you are looking for something new to read, here are the top five series that are on my to-read list…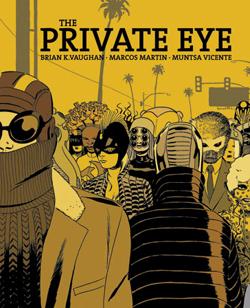 Private Eye by Brian K. Vaughn, Marcos Martin, and Muntsa Vicente
It shouldn't be a surprise that I love another series by Vaughn (Saga, Y: The Last Man, The Runaways). Set in 2076, there is no such thing as privacy. Everything that was supposed to be stored or protected on the internet is available for anyone to see. Now everyone's identity is tightly guarded and press must be certified by the government or face steep consequences. The story follows Vicente, an unlicensed paparazzo/detective, who needs to dig up information in this new paranoid world. Besides the prospect of being an amazing series, Private Eye is only available online as a name-your-price download. It's a pretty sweet way to foster a love for the comic book industry.
FBP: Federal Bureau of Physics by Simon Oliver and Robbi Rodriguez
Honestly, the title was what drew me in initially. In a world where wormhole disturbances and loss of gravity are commonplace, Agents Adam and Jay have their hands full. The government has established an agency to deal with these universe-warping nuisances. Currently, the agents are trying to rescue five people who got sucked into an alternate universe via a faulty elevator, one who is currently being investigated by the Security and Exchange Commission. Expect some interoffice drama with a quantum physics twist. It should noted that the first issue was named Collider just in case you were lucky enough to snag the first printing, but has since changed due to copyright issues. With 3 issues out, it's a great time to pick up a new series!
Trillium by Jeff Lemire and Jose Villarrubia
This was a recommendation from owner Bob Bonner of Hailey's Comics in Old Town. It is a new series that only has two issues out right now, and is referenced as "The last love story". Literally—their relationship will make the universe collapse. It focuses on Billy, an explorer in 1921 and Nika, a scientist from 3797. Yes, that is no typo. Now before you dismiss it as so far-out romance (which it is), but there is a reason Vertigo picked it up and not a tacky romance publisher. From what I've read, Billy is a war vet who is desperately searching for the lost temples of the Inca when he stumbles upon Nika. Nika is trying to negotiate with an alien race for the trillium flower, the key to saving the rest of humanity from an unflappable disease. To her surprise, she ends up a sacrifice and is forced into their temple. This temple seems to have universe and time bending properties because now she's face to face with Billy.
DMZ by Brian Wood and Riccardo Burchielli
My brother has been pleading me to start this. The series is set in a post-apocalyptic United States, when the second Civil War began. In the near future, Manhattan is the demilitarized zone (DMZ) between the United States of America and the Free States of America. Under some unpleasant circumstances, Matty Roth is the only journalist in the DMZ that can document how the war is affecting the thousands of citizens trapped in Manhattan. Filled to the brim with political allegory, it alludes to a post 9/11 world and how fear can radically change a population. If you want a finished series in paperback, the 72 issues of DMZ is collected in 12 volumes and is available online and your local comic book store.
Demo by Brian Wood and Becky Cloonan
Demo is more of an anthology than a series. Wood focuses on teens finding their way in the world while dealing with their supernatural abilities. Each issue is a stand-alone story with its own set of unique characters and their painfully relatable problems. Having special powers makes some of these kids a touch arrogant and others have to grow up all too fast. But their superpowers are secondary to each narrative. Every story involves estranged families, broken relationships, and confronting issues in morality. Demo has transcended the indie comic book world, capturing the attention of mainstream media outlets like Entertainment Weekly and Variety. There are two 6-issue volumes available now.