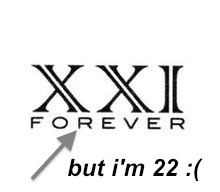 For those of you who know me personally, you know that my birthday is Thursday and I am not exactly excited about getting older.
Maybe I read Peter Pan too many times when I was younger. Maybe I shopped at Forever 21 for too long. Maybe my step-dad should have never showed me that Mel Gibson movie with a young Elijah Wood in it.
Who knows what the real reason is? Regardless, I have had to turn to music to help me cope. So I created this mixtape for anyone that is facing change. Age wise or otherwise. I included some gems from my formative adolescent years, so the library may not be the best place to listen to this. You're going to want to sing along.
You can listen to the mix on 8tracks here.
Or on Spotify right here
Tracklist
Not Nineteen Forever  The Courteeners
I Can Change LCD Soundsystem
Bye Bye Bye *Nsync
Romance Is Boring Los Campesinos!
 This Year's Girl  Elvis Costello
Two doors down Mystery Jets
Napoleon Says Phoenix
Independent Women part. 2 Destiny's Child
Gold Soundz Pavement
Hounds Of Love The Futureheads
You Make My Dreams Hall & Oates
Crash Years The New Pornographers
She's Electric Oasis
She Bangs The Drums The Stone Roses
She Doesn't Get It  The Format
On The Other Side The Strokes
I Wanna Dance With Somebody Whitney Houston
Heavy Metal Drummer Wilco
Forever Young Youth Group
Come On Eileen Dexy's Midnight Runners
 Fluorescent Adolescent  Arctic Monkeys
22 Lily Allen 
As always, feel free to tweet me with your picks for a mix like this.