How I suspect Rowling's "The Casual Vacancy" will fill a vacancy I didn't realize I had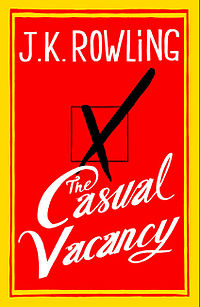 I, like many other people, remember the exact moment when Harry Potter first entered my life. I was in 2nd grade and the girl in my class who had a mother from England brought Harry Potter and The Philosopher's Stone in to class one day. It was 1998 and the buzz around Harry Potter was just beginning. It did not take long for me to get hooked, then my mom got hooked and my friends got hooked and before I knew it the next more than decade of my life was consistently consumed by the boy wizard.
I distinctly remember buying books 4-7 on their release dates and what it was like the first time I read them. I can vividly recall the first time I saw each movie. I can still feel the sad contentment I felt after I finished the final book, silently thanking the literary gods that I still had a few movies left to go and it wasn't all over yet. The pain of the closing credits of the final movie is still fresh. I even made a trip to the Wizarding World of Harry Potter in Orlando last fall. That was the final time I experienced a new version of the magic that Harry Potter had filled my life with.
And then there was emptiness. 
Alright, so that may be a bit dramatic. I had other interests growing up. I read other books. I dabbled in sports (yeah, that went well,) I was involved in theater and various musical endeavors. My name isn't Emerson Spartz so I did not create an empire based off Harry Potter. I wasn't empty, there was just a void. A vacancy, if you will, that the excitement of Harry Potter used to occupy. I thought things seemed less clear. Colors were duller. It was kind of like when you don't update the prescription in your glasses for a few years but then you lose just one contact lens so you have to wear your glasses and it is still your eyesight but just a bit blurrier than usual. Harry Potter was my updated prescription and J.K. Rowling was my optometrist.
That was a bit of a stretch, wasn't it?
I didn't think I have the chance to get an updated metaphorical prescription after the series ended. But then there was hope. Hope in the form of a new novel to be released on September 27th of this year. Hope in the form of The Casual Vacancy, J.K.Rowling's first novel since the Harry Potter series and her first novel that is not geared for a young adult audience. Not much aside from a brief synopsis and the cover has been released but they could probably withhold everything including the title and it would still make the New York Times bestsellers list within the first week simply because of J.K. Rowling's name.
At first I was a bit disappointed that this book wouldn't be related to Harry Potter (I am still holding out for a Marauder's book) but now I am getting excited for something new. The Casual Vacancy seems to be pretty far from Harry Potter, which is not surprising. It is even so far away from Harry Potter that it looks like I may be able to think about forgetting that J.K. Rowling wrote Harry Potter (like the time I saw Daniel Radcliffe in a Broadway musical and I almost for a second forgot he was Harry Potter.) It may sound a bit ridiculous, but the fact that this book also isn't a young adult novel makes me feel like I can truly grow up with J.K. Rowling. A huge part of her original fan base were adolescents when the books were first released, and over a decade grew with the characters. For years after that we continued to grow through the movies. Now that audience that was once made up of adolescents is made up of adults and here J.K. Rowling has written a book for adults. It's a smart move on her part, really.
So here I am a little over two months away from the first new J.K. Rowling novel since 2007 just as excited as I was then. Because even though this novel is not a part of the same world that I know and love, it still came from the same author. And to be perfectly honest, that is good enough for me. Hopefully this new prescription works out.