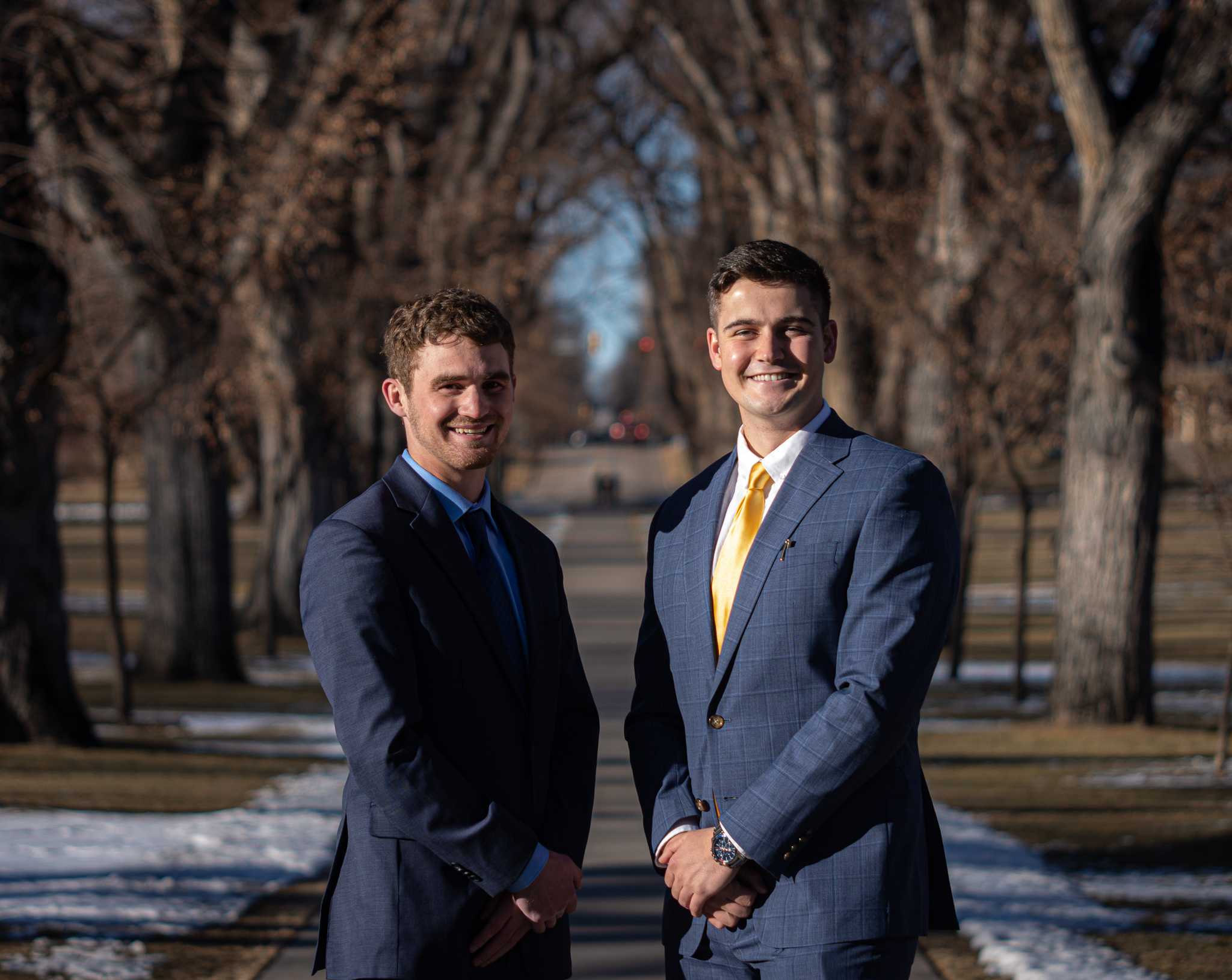 With a platform based on student engagement and extracurricular activities, John Williamson and David Pringle are running for next year's Associated Students of Colorado State University's president and vice president. 
Both candidates have a plan to get students engaged on campus by meeting their needs and expectations as president and vice president. 
John Williamson, presidential candidate
Williamson, a third-year student from Kula, Hawaii, has spent two years as a senator for ASCSU. He is majoring in business administration, is a resident assistant and has worked as a student ambassador for CSU's Career Center. He said this experience qualifies him to be the next student body president.
"I see a lot of different backgrounds and people in a lot of different struggles," Williamson said. "But one that is consistent is college is expensive and people want to participate, but they don't have the time."
Williamson said as an RA, he's seen people work multiple jobs, and they don't have the time or money to take two hours out of their work schedule to participate in on-campus activities. 
"What we want to do is introduce some extracurricular activity scholarships," Williamson said. "We're thinking around $500 scholarships for students who don't have the funds to participate in activities on campus." 
Williamson said he has the experience necessary in ASCSU to get things moving as fast as possible. 
"I also have experience outside of ASCSU, so I understand that there are more problems than just what ASCSU sees," Williamson said. 
David Pringle, vice presidential candidate
Pringle, a third-year civil engineering major from Greeley, Colorado, doesn't have experience with ASCSU but wants to bring a fresh perspective to the organization.
"I feel like, being a civil engineer and not the normal ASCSU representative, I can bring in a different input," Pringle said. "I can get not just a specific group's help but the college as a whole." 
Pringle said as a STEM major, he found he didn't have the time to participate in extracurriculars on campus because he was worried about time and money.
"I can help those students that are along the same path as me and are not being incorporated in the CSU life like they wanted to," Pringle said. 
Pringle said he had always wanted to be a part of ASCSU but felt it was a special group of people you had to be invited into to participate. Pringle said he felt ASCSU was intimidating and was hesitant to get involved when members tabled on The Plaza.
"We want to outreach to students and try to get a set up where students don't feel pressured or attacked in any sort of way on The Plaza," Pringle said. "We want to actually get their input, because we really do care about student input, and make sure it's not just this specific group of people making decisions for the whole Rams community."
Their platform
Williamson and Pringle said student involvement is their main platform coming into election season. The two want to work on getting students discounted parking permits and want to continue the current administration's work with RamRide x Lyft and increasing inclusion and equity for all students on campus. 
Williamson said the $500 scholarships they are planning to provide students with for extracurricular activities will not be based on GPA. 
"A lot of students who are working don't have the best GPAs and we want to make sure that it's inclusive to a lot of different people," Williamson said. 
Williamson said they are also planning on fundraising for organizations at CSU, especially because many were hit financially in the wake of COVID-19. 
"We may be doing fundraising Fridays, where we could have campus organizations partner with specific food trucks in Fort Collins," Williamson said. "It would bring more food to campus, more diverse cuisines and would also raise funds for a potentially struggling business and for our college community and on-campus organizations."
Williamson said they are also planning on negotiating with CSU's Parking and Transportation Services to provide students with discounted parking permits. 
"The price we pay as students is exactly the same as visitors, but the students have more invested into the school," Williamson said. "We feel that we should have potentially better rates for parking, especially since it's really expensive and a lot of students don't have the money to park on campus."
Williamson also said they want to make sure students are more engaged with the ASCSU organization as a whole. 
"I didn't necessarily see how uninviting it could be, so having (Pringle), who hasn't had the experience with ASCSU, can give you a fresh feeling," Williamson said. "I think that would be a huge boon to our platform to get more students engaged in ASCSU as well."
Ceci Taylor can be reached at news@collegian.com or on Twitter @cecelia_twt.