Annual CSU surplus sale to take place Saturday and Sunday
Erin Douglas
June 15, 2016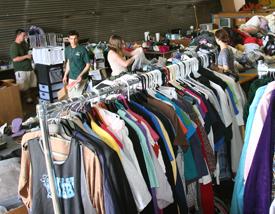 The fifth annual Colorado State University Tent Sale will occur from 8 a.m. to 4 p.m. Saturday June 18, and from 8 a.m. to 2 p.m. Sunday June 19. The sale of surplus property will occur at 201 West Lake Street.
CSU Surplus Property holds the annual event to sell used goods donated by students who moved off campus at the end of the previous school year. The items are collected by each residence hall as part of the "Leave it Behind" program. This year, 23 tons of goods were collected for the sale.
"Leave it Behind" is sponsored by the Eco Leaders Student Organization. All proceeds from the items will be donated to the organization to help fund programs such as Recycle Mania, Earth Week programs and the annual trash audit.
According to CSU Surplus property, items such as bikes, mini fridges, computers, microwaves and desks will be available. Textbooks will be on sale for $5 and all other books will be on sale for $1.
Payment methods accepted are cash, Visa/MasterCard debit cards and Visa, MasterCard, Discover, or American Express credit cards.
Parking near the University Center of the Arts, the parking garage and lot south of the track field and the Lake Street parking garage are the closest lots to the sale.
Most parking on campus is free Friday through Sunday, however, spaces marked A and B require permits.
Dogs will not be allowed inside the warehouse, and must be leashed at all time while on campus. CSU Surplus Property does not recommend bringing pets to the sale due to the anticipated crowd size.
CSU Surplus Property also encourages customers to bring their own bags in order to reduce waste.
Customers may shop the warehouse at any time Monday through Friday from 7:30 a.m. to 4 p.m., but the tent sale is the largest inventory selection throughout the year. The event's proceeds are donated to the Eco Leaders Student Organization.
Collegian News Editor Erin Douglas can be reached at news@collegian.com or on twitter @erinmdouglas23.