CSU alum named National Goodwill Ambassador by Muscular Dystrophy Association
Savannah Hoag
February 16, 2016
The Muscular Dystrophy Association recently named 2013 Colorado State University alum Joseph Akmakjian its National Goodwill Ambassador.
This is the first year the MDA has chosen an adult for the position of the National Goodwill Ambassador — the position has previously been occupied teenagers or children. Being a National Goodwill Ambassador means Akmakjian is able to meet and develop stronger relationships with families affected by neuromuscular diseases and forge better connections with new and old sponsors of MDA.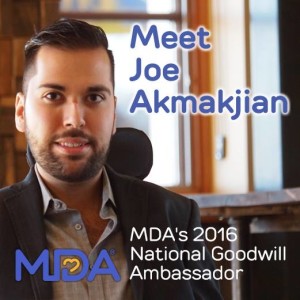 Akmakjian was diagnosed with spinal muscular atrophy at 15 months old and has been involved with the MDA for many years. Before becoming the National Goodwill Ambassador, Akmakjian represented Colorado as a state ambassador during high school.
He majored in journalism and media communication with an emphasis in public relations and later decided to add communication studies as a second major.
"I did lot for the MDA in my childhood, and that was what got me interested in journalism and PR at CSU, " Akmakjian said.
Akmakjian was involved at CSU working in a multitude of departments. One position he held was the PR coordinator for TEDxCSU.
"I gained a lot of good friendships from that organization," Akmakjian said. "I met so many great people and learned a lot from them."
Although he has only begun his time as the National Goodwill Ambassador, Akmakjian has already traveled to New York for an appearance on "The Today Show" and looks forward to getting to interact with the different supporters of MDA.
MDA recently launched the new Live Unlimited campaign, which features inspiring stories of courage and strength from families affected by neuromuscular diseases.
"There were videos being posted about these really inspiring people (with neuromuscular diseases) that shows people how much the families and individuals we support can do," Akmakjian said. "There's still a whole lot of life to be lived and to be had because of MDA these people are able to do a lot more than what they normally wouldn't be able to do."
Thanks to MDA's research, many children affected by neuromuscular diseases are now able to live adulthood. Akmakjian hopes, with the help of MDA, to give this new growing community of adults with neuromuscular diseases the recognition they deserve.
"Chase your dreams and keep a positive attitude because while your plans may not work out the way you expect them to, there are a lot of great things in life," Akmakjian said.
Collegian Reporter Savannah Hoag can be reached at news@collegian.com or via Twitter @sav_hoag.