8 current and future construction projects at CSU
Megan Fischer
January 21, 2016
Colorado State University has seen numerous improvements to its Fort Collins campus, but with all of the changes and announcements, it can be difficult to keep track of what has been completed and when construction will begin on the planned projects.
The following are eight projects that either have begun or are planned for the near future.
Chemistry Research Building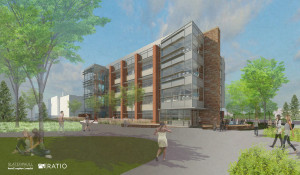 Slated to start in winter 2016 and finish fall 2017, the new building will be located between Pitkin Street and Lake Street. 
Biology Building
The Biology Building renovation started in fall 2015, and its estimated finish date is set for fall 2017. 
Stadium
The on-campus stadium construction has already started and has an estimated finish date of August 2017. 
South College Avenue Parking Garage
Construction on the parking garage started in fall 2015 and will finish during summer 2016.
Aggie Village Redevelopment
Video posted on CSU Halls YouTube account.
The redevelopment on the Aggie Village apartment complex started during the winter 2015 and is expected to finish in summer 2016.
Pedestrian/ Bicycle Underpass at Prospect Road and Centre Avenue
Work on the underpass will start in winter 2016 and end in fall 2016. It will allow for bikers and pedestrians easier access to campus on the southern side of campus.
CSU Health and Medical Center
Video posted on Colorado State University YouTube account.
Construction on the health and medical center will start in winter 2016 and end during spring 2017.
Equine Hospital
CSU is building a 180,000 square foot, $47 million Equine Hospital with help from a A $10 million gift from the Helen K. and Arthur E. Johnson Foundation.
The new facility will allow the equine clinicians to care for about 4,000 horse patients each year, according to a university release. 
Start and end dates for the equine hospital have not yet been determined.
Collegian Reporter Megan Fischer can be reached at news@collegian.com and on twitter @MegFischer04.