Lt. Gov. Joe Garcia served as the president of CSU Pueblo from 2007 to 2010 until he was tapped by Gov. John Hickenlooper to be his running mate in the 2010 gubernatorial race. Garcia focused almost his entire career on improving the state of Colorado's education system, and in recent years, he has worked to improve representation for traditionally underrepresented students in higher education.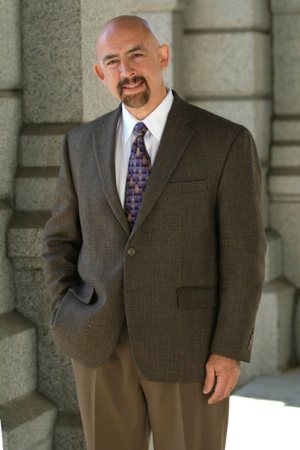 Garcia announced Nov. 10, halfway through his second term, that he was planning to resign as lieutenant governor in 2016. He will become the president of the Western Interstate Commission on Higher Education, a commission that works with 16 western states to improve access to higher education. 
"Joe will be nearly impossible to replace," Hickenlooper said in a statement. "He has been an exceptional lieutenant governor and in leading education efforts for Colorado. He has given five years selflessly to the success of this state and the future education of our children. We are grateful and wish him continued success."
WICHE chair Michael G. Rush said Garcia will build upon the efforts of David Longraker, the current president of WICHE, who plans to resign July 1.
"Throughout his career, he has worked to improve remedial education, enhance the transfer process between two- and four-year campuses, increase underrepresented ethnic minority students' educational success and create a seamless public education system for Colorado children of all ages," Rush said in a press release.
Garcia discussed his future plans and what he hopes to accomplish after officially leaving government work in July.
Collegian: What inspired you to take this leap into being President of WICHE? 
Joe Garcia: Several people encouraged me to do it. They recommended that I apply. They thought it would be a good way for me to take the higher education work I've been doing for the last 12 to 15 years, but take it beyond Colorado to all the western states.
C: How do you think your new job is going to be different to your current role in state government?
JG: Primarily, it will be that I will be working not just in Colorado, but in all 16 western states, to do the same work I've been doing: promoting access to, support for and success for higher education. That includes trade school, community colleges and research universities.
C: You're leaving halfway through your second term. What sort of legacy do you see yourself leaving in the Capitol when you leave? 
JG: I will have been here just under six years when I leave, and what I want to leave behind is a track record of success around education, from early childhood education to improving outcomes in K-12 and, of course, in higher education.
C: How have you worked to accomplish this?
JG: When I got here, the real focus was on early childhood education and early literacy. We worked hard to get a grant from the federal government that totaled more than $40 million to support quality childhood programs in Colorado. Then, we worked to pass the Reading to Ensure Academic Development Act to improve the literacy rates of all kids, so that when they're leaving third grade, they're reading at that level. Then, we created the Colorado Reading Core because we wanted to get more volunteers into schools working one-on-one with kids who needed to learn to read. All of those efforts were directed at helping more kids graduate high school getting ready to go to college.
C: Do you think working as president of WICHE will allow you to further accomplish those goals?
JG: I certainly hope so. It will allow me to work with other states and other colleges and universities to focus on the importance of serving those students who higher education has not served in the past, meaning minority students and non-traditional students, like students over the age of 25 coming back to school.
C: It's good to know that there's work being done to improve access for non-traditional students at the state level.
JG: There has to be. It's important for the state — not just for those students. We are not going to graduate enough traditional students to meet our workforce needs. The only way we are going to do that is to bring in more Hispanic students and bring back adult learners to get the re-skilling they need to grow our economy. It's not just good for those students, it's good for the state.
C: So you plan to resign as lieutenant governor before July of next year. What do the next six months look like for you?
JG: It is finishing up the work I've been doing here. We are very focused on closing the attainment gap, which is my No. 1 priority. It's closing the gap between white adults who hold a post-secondary credential and the percentage of minority adults who hold a post-secondary credential. I want to make sure that higher ed does not face more cuts in the next budget, so I will probably be around until May. I will be gone entirely from government work before July 1, and hopefully a month or two before that.
C: I have to ask, as someone from CSU — as someone who graduated from Boulder, became the President of CSU Pueblo and looking like you're headed back to Boulder next year, who do you watch — the Rams or the Buffs?
JG: I watch the Thunder Wolves, the football team from CSU Pueblo, national champs in Division 2. I follow the Buffs and I follow the Rams. In the end, I'm a Coloradoan (and) the success of those two teams is important to me.
Collegian City Beat Reporter Erik Petrovich can be reached at news@collegian.com or on Twitter @EAPetrovich.