In Boulder, campus and community members protest GOP presidential debate
Ellie Mulder and Skyler Leonard
October 28, 2015
[new_royalslider id="404″]
Photos by Abbie Parr.
BOULDER — Countless protesters gathered on the University of Colorado campus before "Your Money, Your Vote," the third Republican Presidential Debate, which will be hosted Wednesday night in Coors Events Center.
A group of CU students calling themselves #StudentVoicesCount and working with Colorado-based online TV station BE HEARD! held a live event beginning at 3 p.m. featuring a panel of students and politicians, including U.S. Congressman (D-CO) Jared Polis and Democratic presidential candidate Martin O'Malley.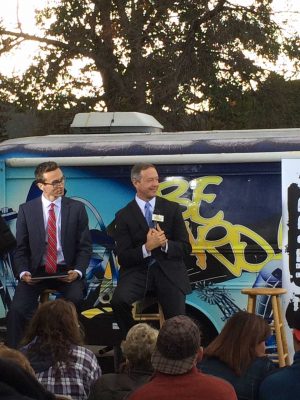 The students officially began working to get more student tickets to the debate 35 days ago, according to Tim Werder, a participant and junior mechanical and electrical engineering student at CU. Now, the group aims to show presidential candidates that students want to be engaged in politics, if given the opportunity.
"That sparked a lot of controversy on a few of our ends, and kind of united us together to get more tickets," Werder said. "It essentially became a whole movement."
Outside the Coors Event Center, a variety of protesters, many holding anti-GOP signs, gathered before the debate began inside.
Dolores Huerta, an 85-year-old activist who has been involved in various policy groups for decades, came to Boulder as a board member of D.C.-based People for the American Way. She said she focuses on women's and Latino's issues, as well as issues including as education and global warming.
"As a Latina, I am very concerned about the whole issue of immigration reform and what the stances are of the various candidates," Huerta said.
She spoke with protesters and community members, encouraging them to vote.
"The one issue that I'm really concerned about is that these protests and these marches do not result in voting," Huerta said.
A "My Country, My Vote" rally was held from 5-7 p.m. on campus "to both respond to the latest stream of anti-immigrant attacks from presidential candidates and launch … an unprecedented 12-month voter registration campaign to mobilize Colorado's Latino, immigrant and allied voters," according to the event's Facebook page.
Lt. Gov. Joe Garcia spoke at the event, which was promoted in both English and Spanish.
"We know this country is a nation of immigrants, and we can't forget that," Garcia said to the crowd of about 150 people. "Some of you may have arrived recently, some may have been here for generations, but to too many people over there, we're all the same. None of us belong. They need to recognize that we are a powerful force."
Some protesters, attacking what they believe to be racism within the Republican party, stood outside Coors Event Center next to a giant blow-up Elephant with "racism" written on it.
Video by Skyler Leonard.
"We are here to encourage white people to join in conversations about what we can do to support communities of color and systematic racism, white supremacy and white privilege," said Cynthia Beard, a protestor who was wearing a white blindfold with the words "white privilege" on it.
O'Malley was in Boulder Wednesday to meet with families of victims of the Newton, Columbine and Aurora shootings. After the meeting, he spoke with political protesters on campus.
"If the GOP actually listened to students instead of trying to restrict them from the debate, they might have a better sense of where our country is headed," O'Malley said.
During the debate, a variety of student watch parties were held on CU's campus and in Fort Collins.
Collegian News Editor Ellie Mulder, Executive Editor Skyler Leonard and KCSU News Director Mike Nickels can be reached at news@collegian.com.