Former veterinary student shares her story with the Flint Animal Cancer Center
Israa Eldeiry
October 26, 2015
When she was a veterinary student in 2014, Elizabeth Foster took her dog, Holly, into the Colorado State University Flint Animal Cancer Center for a practice ultrasound. She discovered something that ultimately demonstrated the center's outstanding resources, care and support.
Foster, who is currently a small animal vet at Mountain Mobile Veterinary Service and the Animal Hospital Center, had the opportunity to do practice tests while working as a student.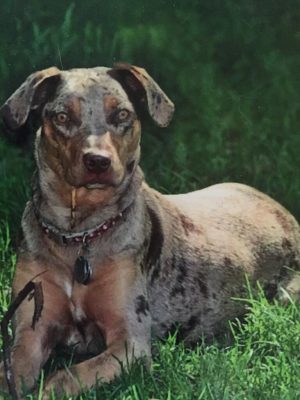 Foster decided to bring Holly in to test ultrasounds. The doctors immediately found a mass on Holly's spleen, and following further tests, she was diagnosed with disseminated histiocytic sercoma, a very aggressive form of cancer, which started in her spleen and spread to the rest of her body.
Holly had a four to six-month prognosis with chemotherapy, but otherwise, she appeared healthy on the outside.
"If I had not been a student and decided to bring Holly in for practice, I would have never known," Foster said.
Chemotherapy for dogs is very different than for humans.
"It is about improving the quality of life, rather than the length, like it is for people," Foster said.
FACC offers multiple facilities while providing their patients with the benefit of accessibility to many services at a time, including a counseling service by Argus Institute. Foster said she is thankful to the staff for the support she received during the process.
"I could not have not gone through the whole thing without their support," Foster said. "They will go above and beyond for you."
Unfortunately, Holly only lived two to three months after her diagnosis — when the cancer reached her lungs, she was put down Nov. 8. Five days later, Foster took the Northern American Veterinary License Exam, and the Argus Institute staff worked hard to make sure she had all the support she needed.
Rated as one of the top in the country, the FACC is "the largest and most well-resourced cancer center in the world, working for companion animals with the intent of translating studies to human cancer research," said director Dr. Rodney Page.
The FACC has been in existence since the late 1980s, but its official designation as a cancer center by CSU was given in 2002.
With about 80 people involved in the cancer department, the center receives about 25 to 30 percent of the hospital's case load. This translates to about 6,000 visits of companion animals, 350 major surgical procedures, 1,800 chemotherapy infusions and 1,800 radiation treatments per year.
With some equipment costing up to $3 million, the cancer center continues to strive and "live by grateful clients," Page said. A large portion of the income for the cancer center comes from donors who have used the services and want to maintain a relationship with the center. In 2002, a $10 million addition was made to the teaching hospital, and $9 million of that money came from thankful client donations.   
"I have nothing but good things to say about them," Foster said. "It was all a very unfortunate situation, but I can now use my own personal situation to help other people."
Collegian Reporter Israa Eldeiry can be reached at news@collegian.com or on Twitter @israaeldeiry.