Bike theft rising at CSU may be due in part to negligence, organized theft rings
Julia Rentsch
October 28, 2015
While leaving his house on a Monday morning, Colorado State University student Tripp DeHaven stepped outside to see that his mountain bike, which had been locked up outside his apartment on West Elizabeth Street, had been stolen during the night.
DeHaven, a sophomore, began using his bike at the start of the fall semester and routinely locked it up outdoors because its bulk made it difficult to carry up the stairs to his apartment. DeHaven said he had not known about the problem of bike theft on campus, but really wishes that he had.
There has been an overall increase in bicycle theft on campus this semester, as well as an increase in thefts of expensive bikes and bikes locked up with U-locks, according to data from the Colorado State University Police Department. Those involved in the bicycle scene around town and on campus have a variety of theories as to why these trends are emerging.
Based on statistics obtained from CSUPD, 46 bikes have been stolen this semester, compared to 34 during the same period last year. U-locked bike theft has increased, with 15 U-locks being compromised this semester compared to just four by this time in fall 2014.
After the loss of his bike, DeHaven is stuck going to class on foot.
"I would think about it (getting stolen)," DeHaven said. "But I never thought it would happen to me."
Almost 100 students have had their bikes stolen in 2015, sharing DeHaven's story. Bike theft is rising on campus, and student awareness, organized bike crime and susceptible areas are contributing to the number. 
What is going on?
Though many do not see bike theft as anything more than a petty crime, the inconvenience and the heartache alone is enough for many members of the cycling community to be on guard. 
In the past 14 months, 147 bikes have been stolen from the CSU campus, amounting to over $50,000 worth of property lost.
There were 89 bike thefts on the CSU campus in 2014. In 2015, there have been 94 thefts with two months remaining, again reflecting a rise in numbers.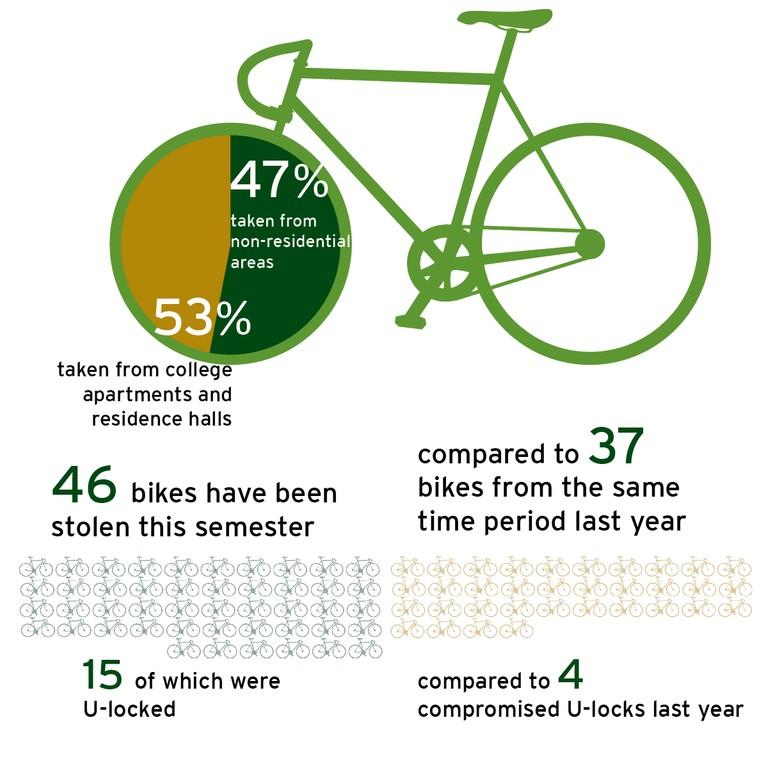 Joy Childress, the CSUPD Bicycle Education and Enforcement Program supervisor, acknowledges that bike theft is increasing. 
"Universities are always a target," Childress said. "They've been going after some pretty expensive bikes lately."
Thefts are most common at residence halls and University apartments, compared to non-residential campus buildings. Corbett Hall experienced the most thefts this year, records show.
Of all the campus locations, successful U-lock attacks are occurring most frequently at Parmelee Hall.
The most expensive bike stolen in the past year was a Giant Trance, taken in late September, worth about $4,500. Other high-end bicycles that have been stolen from campus include the following: a $3,500 Jamis Dakar, a $2,000 Specialized StumpJumper and a $2,000 Specialized Demo 8. The Trance and the Demo8 were both taken this semester. Each of these bikes exhibited different types of lockups, from a U-lock and cable combination to a simple cable — determined thieves cracked them all.
Although just 40 percent of the data overall was reported to CSUPD including a time frame telling precisely when the bike was stolen, just over 70 percent of the data reported from the beginning of this semester to Oct. 26 was precise enough to pinpoint each theft down to a time period of a couple days, or even just a few minutes.  
The majority of high-priced bike thefts that occurred in September 2015 happened Mondays, Tuesdays and Wednesdays, and most of the time, these thefts occurred during the day, data shows.
Most of the bikes stolen since August 2014 were locked with cables of varying thickness. Rico Lighthouse, a bike mechanic at the campus Recycled Cycles, said some of these can quickly and easily be cut with bolt cutters without requiring much force. 
"Some of the thicker cables can take one or two minutes, which is a long time when you're trying to steal a bike, but most cables can be clipped instantly," Lighthouse said. 
The top three most commonly-taken models are Specialized, Trek and Raleigh. Tied for fourth place are Diamondback and Schwinn, with Giant rounding out the top five. 
Bike models known for better function tend to be stolen the most. Dondi Barrowclough of the Fort Collins Bike Co-op said that out of the top five most-stolen brands, new Specialized, Trek and Giant bicycles can, for the most part, only be obtained at bike shops. Barrowclough said makes such as Schwinn and Diamondback can be found at department stores.
Possible Explanations
CSUPD Corporal Ashleigh Rose said Corbett Hall could possibly see more thefts because it is one of the most populated dorms, therefore having more bikes parked nearby. She said numerous bikes could have been taken from Parmelee because of the ease of access to its bike racks provided by the nearby intersection. 
"Parmelee is at an intersection there, and you've … got a lot of movement through there," Rose said. "But at night, there isn't much, so easy pickings. You can get on and get off pretty quickly and get away from campus area."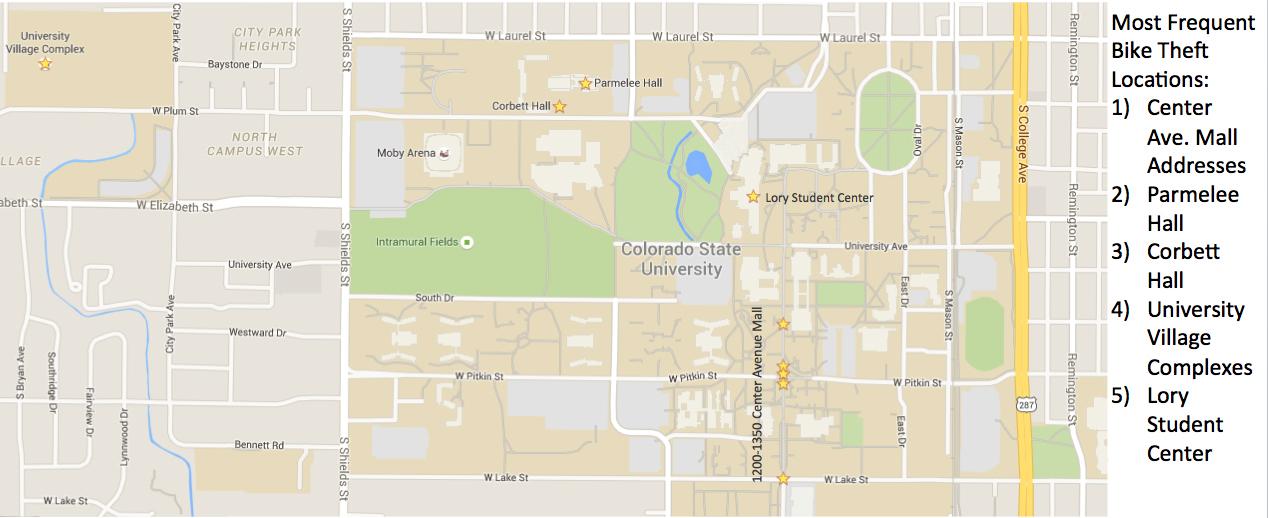 Childress said she thinks thefts at Parmelee Hall  could also be easier because of the number of dark areas near the bike racks, making it easy for those working with tools to hide.
"Those halls over there definitely have some spaces that are a bit more tucked away so that these people can get their bigger tools out," Childress said.
Rose said bikes that are only locked with cables let thieves take a bike by using just basic tools.
"(Thieves) could be using simple cable cutters that are fairly small … you can cut it, and it almost can look like you're undoing your lock," Rose said.
The increase in successful U-lock attacks, however, is an anomaly to Rose. She said people looking to cut U-locks would need to make a considerable amount of noise with their tools, even if for only a few seconds. A possible explanation for the increase in U-lock theft, according to Rose, is that students were locking their bikes incorrectly, such as putting the U-lock only through a quick-release front wheel and not the bike frame.
Sgt. Adam Reuhlens of the Fort Collins Police Department said thieves tend to use cordless reciprocating saws to cut U-locked bikes in quiet places. 
"Obviously, the prize would have to be worth it," Reuhlens said. "They might see a bike locked up there for a while and then do a search to see what the bike is worth."
Another factor to bike theft is that thieves could be taking advantage of a lack of light in certain areas near bike racks.
"Unfortunately, we don't have the budget to … go into these places that are old, and fix them up, because we don't have the money," Childress said.
She also said if something new is built, the cost of good lighting can be put onto the builders.
"That's how we get a lot of the bike infrastructure, enough bike parking spots and we're moving towards covered bike parking spots now," Childress said.
Organized bike theft rings
Because the data show more expensive bikes with complex lockups being taken from campus in clusters of similar time, date and location, some say another explanation must follow to fit this trend, such as organized bike theft groups.
"We had, years ago, professional rings that were coming through, and that's what my intuition is going towards again with this one because of the higher-value bicycles being targeted," Childress said. 
Groups who work together to steal high-end bikes transport them around the country, selling them in other cities, have been known to target Fort Collins and CSU in the past.
"We see (organized bike crime) every single year, and especially with the plentiful amount of people we have here, we are a target," Rose said. "We are an easy-pickings target, and we have all these resources here, and a lot of people don't realize how much they need to take care of their property."
Naturally, not all the thefts that have occurred lately are due to calculating criminals. Bikes worth less than $100 are stolen on occasion as well. 
"These rings, what they do is go from state to state, so they'll steal a bunch in one state, go to the next state and sell them all," Childress explained. "I've had bikes that were stolen and then a year later they were found in, like, Missouri."
CSUPD Detective Clint Schnorr is not so sure, however.
"In my experience, most bicycle thieves either steal bike to use them (either permanently or temporarily), or to sell them either through a pawn shop or themselves, like on Craigslist," Schnorr wrote in an email to the Collegian.
Combating Theft
The CSU Bicycle Traffic Education and Enforcement Program is making an effort to educate students about both rules of the road and proper bicycle lockup techniques. CSUPD speaks at freshman Ram Orientation, places an ad in student planners each year and hosts events such as the bike registration tent to educate students. 
Learning about what to do, however, is just the beginning. 
More than half of the crimes in the past 14 months occurred in the vicinity of residence halls or University apartments, and because many of those crimes occurred during the day, these areas were presumably busy with people when the crimes occurred, Rose said.
Rose said this may be happening because even if students notice suspicious behavior, they may be unwilling to intervene.
"People know they can steal things whenever they want, because who's going to do anything about it?" Rose said. "Who's going to react, who's going to go up to him and be like, 'What are you doing?'"
Recently, the CSUPD posted an appeal to the public for help on their Facebook page, looking to identify two men in a surveillance camera image from the University MAX bus station who were suspected of stealing bikes. The use of surveillance cameras is an emerging technology on campus, with cameras present in newly-built locations.
John Malsam, the assistant director of Residence Life, said cameras have been used as a reference in cases of bike theft since their installation a little over a year ago within residence hall entryways. 
On the other hand, Rose said most things are not caught on camera.
"Most of our stuff isn't on cameras, and sometimes even if it is, our cameras aren't that great on campus," Rose said. "It's like, I can't ID them, and it would be hard to ID a person just by (them) taking a bike. There's not a lot of identification characteristics usually in (the videos)."
Childress acknowledged that locking a bike outside a residence hall is "not really that safe."
"It's definitely more academic areas that (cameras) are pretty visibly there," Childress said. 
Schnorr said CSUPD is helping reunite stolen bikes with their owners by checking their registration.
"Stolen bikes are either recovered by contacting someone through a bike stop and checking the serial number, or when they are resold," Schnorr said. "At the PD, we try to enter serial numbers for every stolen bike, which is the best way for us to get them back."
Alternative Transportation manager Aaron Fodge said a lot of bike theft occurs because students do not know about, or do not follow, the proper bike lockup procedures.
"This is why they have organized crime here, because they know they can come on to campus and they can steal these bikes," Fodge said, while gesturing to an unlocked bike outside the LSC. "The cheaper the lock or the lazier the lock … that's what they're looking for. The one they can get away with the quickest."
Advice from the pros
Because theft of expensive and well-secured bikes is increasing, individuals must take responsibility for protecting their bikes.
Fodge said there are four stages of locking up a bike. Stage one is no lock, stage two is an easily-clipped cable, stage three is a U-lock used properly, which means it is run through the bike frame, bike rack and front tire and stage four is adding a cable through the rear tire in addition to everything in stage three.
"That's going to make your bike the least attractive one to steal," Fodge said.
Lee's Cyclery sales associate Reese Ruland said certain brands of locks come with their own insurance policy that will reimburse the buyer up to a certain amount, which depends on the level of security for each lock.
"I would cry if my bike got stolen," Ruland said.
Many students, such as DeHaven, choose not to keep their bikes inside due to the inconvenience of it and having limited space. Professionals warn that if you're intent on keeping your bike, it is much better off indoors.
Rose said thieves look for bikes that have been sitting outside there for a while.
"If you've got a bike worth over 500 bucks, keep it in your room," Rose said. "It should not even be out on those racks, at any time."
Malsam said Housing and Dining Services is also involved in educational efforts to educate students about proper bike lockup procedures by working with the campus police. His advice to students was to avoid bringing an expensive bike to campus.
This sentiment was echoed by many officials who implored students to register their bikes.
"If it's not registered, there's very little the police can actually do," CSUPD Officer Jamie Rayroux said.
Every serial number provided to CSUPD during bicycle registration is entered into a national database and is crucial to identifying a recovered bike as belonging to its owner. Registration stickers can act as a theft deterrent, Childress said. 
"Because thieves know if that sticker's on there, then there's information tied to this bike, and there's probably going to be a theft report tied to this bike," Childress said.
Though most of the action being taken to reduce bike theft on campus revolves around education and bicycle registration, certain offensive measures are also being taken.
"If we know a (particular) crime is a problem in a particular place, we have a propensity for hiding in dark places and trying to find suspects actively engaged in the commission of crime," Rayroux wrote in an email. "It's like hide-and-seek with real-world consequences."
Though the threat of bike thieves feels a bit nebulous to many, the best line of defense is vigilance on the part of owners of expensive bikes.
"Students really need to lock their bikes properly," Fodge said, "because that's why the crime rings come here."
Collegian Reporter Julia Rentsch can be reached at news@collegian.com and on Twitter @julia_rentsch.