The first phase of a new city smoking ordinance will go into effect Tuesday, restricting smoking in all city buildings and grounds, parks and natural areas. The smoke-free areas also include the Lincoln Center, the three city-owned golf courses and all trails in the city.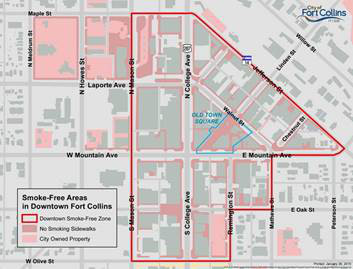 The second phase goes into effect Jan. 1, 2016, and will restrict smoking at city-permitted events and in a large area of downtown.
The city voted 6-1 to adopt the new ordinance in February, which bans smoking in many public areas. Electronic cigarette use has been part of non-smoking efforts in the city since 2013, when it was mandated that e-cigarettes could not be used anywhere that it was illegal to smoke.
It comes as an expansion to rules created in 2014 restricting smoking in outdoor bar patios, TransFort shelters and all hotel rooms in the city.
"The city has a long history of smoking ordinances with regards to increasing the health and wellness of the city," said Delynn Coldiron, manager of Neighborhood Services. "Whenever you designate non-smoking areas, you reduce tobacco usage and litter in general, and improve the appearance of the community."
The city cites public health in its reasoning for passing the expanded rules, including the reduction of secondhand smoke.
According to Laurie Kadrich, director of the department of Community Development and Neighborhood Services, there was a majority of support for designated smoking areas within the smoke-free zone in the city. These smoking area designations were not adopted by the city council and did not make it into the final ordinance.
"People will have to go to their personal vehicles to smoke in the downtown smoke-free zone," Coldiron said. "The ultimate goal is to reduce secondhand smoke."
The three hookah lounges in the city – Algiers, Narghile Nights and Sahara Night – were all affected by the non-smoking regulations passed last year and will continue to be affected by the new legislation being rolled out. Narghile Nights moved its location inside the new non-smoking area three days before the expanded regulations were passed in February.
Narghile has had to find new methods of cooperating with the city to continue operating a hookah lounge in the downtown area, including the installation of a $40,000 ventilation system.
Aria Khosravi, owner of Narghile Nights, is working with the city to create an amendment to the law which would redefine what a retail tobacco store is. Once the second phase goes into effect Jan. 1, 2016, retail tobacco stores will be one of the few places in Fort Collins where smoking will be legal.
"Several people have stated that it would deter people from coming to downtown." Khosravi said. "From my standpoint, and from Narghile Nights' standpoint, I think it will be business as usual. As far as downtown as a whole, time will tell."
Collegian City Beat Reporter Erik Petrovich can be reached at news@collegian.com or on Twitter @EAPetrovich.