Fort Collins man in custody after SWAT barricade at Ramblewood Apartment Homes
Rachel Musselmann
September 10, 2015
Fort Collins SWAT was forced to barricade Ramblewood Apartment Homes after a resident threatened self-harm Thursday afternoon, according to the Fort Collins Police Services.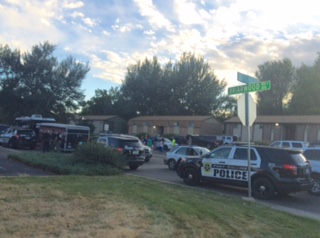 Officers from the  Larimer County Sheriff's Office were attempting to evict and serve paperwork to Fort Collins resident Scott Champion when Champion pulled out a razor blade and threatened suicide. Fort Collins Police Services arrived on the scene at around 4:50 p.m., barricaded the complex and evacuated seven surrounding apartments. Champion has a Weld County felony warrant out for his arrest, according to police.
As SWAT was setting up, Champion exited the building uninjured and surrendered. He was arrested on the felony warrant and several misdemeanor charges, including resisting arrest, and residents were allowed to return to their homes, according to police.
Collegian Reporter Rachel Musselmann can be reached at news@collegian.com or on Twitter @rmusselmann