Ajay Menon was named the new dean of the College of Agricultural Sciences Tuesday, according to a press release. He will hold this position for the next three years.
Menon previously served as the dean of the College of Business for 13 years, and has been with the University since 1991.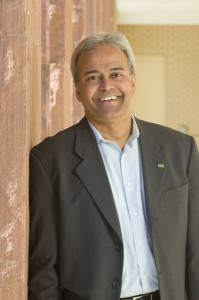 Throughout his time at Colorado State University, Menon started as a member of the marketing faculty in the College of Business, and then received a Professor of the Year award during his time in the classroom. He served as the state's first chief innovation officer in 2011, where his involvement helped create the Colorado Innovation Network.
Menon will replace Craig Beyrouty as the dean of the College of Agricultural Sciences, which offers nine undergraduate majors. Beyrouty will travel to the University of Maryland, where he will become the dean of the College of Agriculture and Natural Resources.
"This college has always been vital to the advancement and development of the state's economy," Menon stated in a press release."I look forward to working with our faculty to position the college to continue building and growing a spirit of innovation within Colorado agriculture and beyond."
Menon's previous education includes a bachelor's degree in chemistry from the University of Bombay in India, a master's degree from the University of Texas and a doctorate from the University of North Texas. His expertise focuses on international marketing, management, strategic market planning and new product development.
Collegian Reporter Christina Vessa can be reached online at news@collegian.com or on Twitter at @ChrissyVessa.