Walking into Morgan Library, Robert Serunjogi greets almost everyone he sees and wishes them a good day.
Serunjogi, a custodian at Colorado State University, is most known for being a friendly face around campus. But what many do not know is that he is a survivor of the Ugandan civil war, and he wants to help his hometown of Luweero in Uganda by building schools and providing education for the orphans.
Serunjogi is planning a trip back to Luweero at the end of May 2015. His goal is to raise $10,000 to bring back to Uganda to build schools for the children in his village and the surrounding areas.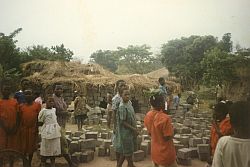 A photo of orphans in Luweero. Courtesy of Robert Serunjogi.
Serunjogi started a fundraiser with the help of Laura Schreck, a sophomore biomedical science major. After meeting one evening in the engineering building, Serunjogi shared with her his vision of raising money to benefit his village. Schreck teamed up with a group of engineering students to spread the word and started the GoFundMe page.
The nearest school from Serunjogi's village is eight miles. He said this is why he decided to build schools.
"I want to give (the children at the orphanages) the foundation so they can survive and continue education," Serunjogi said.
According to Serunjogi, the people in his town are unaware of the importance of health care and immunizations. He said he thinks it is important to provide basic health care, and that he eventually wants to meet with the officials in the town to make health care and education a priority.
"If they have an education, they can overcome poverty," Serunjogi said. "That's why I have to give back to my community. That's my motivation."
Schreck said she laid the groundwork for starting the fundraiser, but it is the CSU community that is doing the work.
"What Robert has going for him is that so many people know him," Schreck said.
According to Brian Griffith, a senior civil engineering major, Serunjogi and his fundraiser have been getting a lot of donations from those who know him at CSU.
"There have been quite a few donations," Griffith said. "He has significant support from the engineering community."
Surrounding areas in Fort Collins are also supporting the effort.
According to Griffith, Serunjogi was at McDonald's one night, and somebody he met donated $100 out of pocket.
"He's definitely spreading the word himself," Griffith said.
Serunjogi was able to escape the war-torn area in the 1980s because he was one of the few educated people in his village. Through connections, he was able to get a custodial job at CSU and has been working as a custodian in the engineering building since 1998.
During his time in Fort Collins, Serunjogi pursued a degree in political science while working multiple full-time jobs, despite not knowing much English.
"It took a while to get a bachelor's degree because of the language barrier," Serunjogi said.
According to Serunjogi, he spent four years earning a GED diploma. Altogether, he worked toward his political science degree for seven years, graduating in 2010.
Serunjogi said when he returns from Uganda this summer, he wants to get his master's degree in education in order to teach middle school social studies.
For the time being, Serunjogi is a dedicated part of CSU. According to Griffith, it is important to support those working in the community.
"We can support the staff because they are a part of the CSU campus," Griffith said. "They have a place to be here even if they are not (students)."
Serunjogi needs about $5,000 more to meet his $10,000 goal. According to Schreck, this is a good opportunity to help a community member.
"We're all at CSU to make the world a better place," Schreck said. "We need to help the people with good hearts like Robert."
Collegian reporter Zara DeGroot can be reached at news@collegian.com, or on Twitter @zar_degroot.