UPDATE: Winter Storm Warning in effect for Fort Collins
Collegian Staff
May 8, 2015
Update: 1:35 p.m.
With the possibility of heavy snow in Northern Colorado, the National Weather Service has issued a winter storm warning. The warning is in effect from 9 p.m. to 9 a.m. Sunday.
The rain will turn into heavy snow that may cause low visibilities and hazardous travel conditions. Heavy snow, with totals of five to 10 inches, is possible Sunday morning.
A flash flood watch is still under effect until 8:50 p.m.
Update: 9:15 a.m.
Due to an incoming thunderstorm, the National Weather Service has issued a flash flood watch until 9:00 p.m. tonight for the Front Range including Fort Collins.
The contin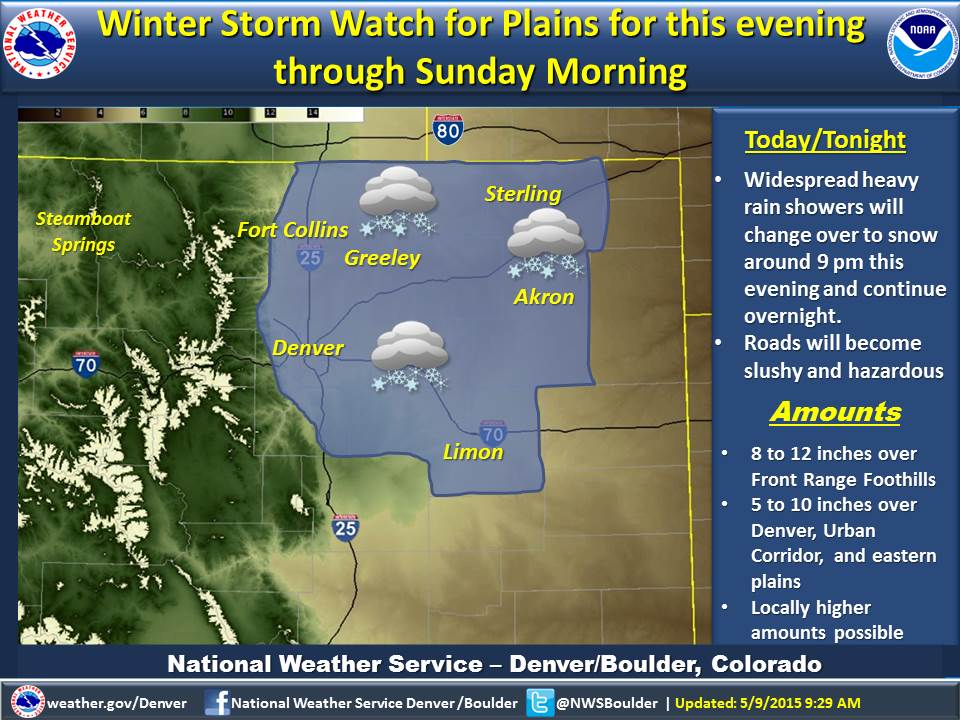 ued rainfall may cause saturated soils that will not absorb water, which will lead to flooding during and after rainfall. Conditions may change quickly and lead to dangerous levels of water.
A flood warning is still under effect until 8:50 p.m., along with a winter storm watch that is in effect until Sunday at 9 a.m.
Update: 11:10 p.m.
There have been equipment failures and two power outages in Larimer County, according to Fort Collins Utilities Spokeswoman Lisa Rosintoski.
The two outages occurred near College Avenue and Fossil Creek Parkway, and Ziegler Road and Kechter.
The outages began at 9:40 p.m. and are expected to be resolved by 11:30 p.m.
Original
The National Weather Service has issued a flood warning for Larimer County through Saturday morning. Southern Fort Collins will experience flooding, according to the warning. 
A flood advisory is also in effect through Sunday night. Moderate rainfall will continue through tonight with thunderstorms and heavy rain possible Saturday and Sunday. According to the weather service, the additional rain will keep streams flowing high and may cause flooding in low lying areas along the front range foothills and urban corridor.
The service advices caution, especially at night when it is harder to recognize the dangers of floods.
The Cache La Poudre River near Fort Collins was last measured at 9:15 p.m. and was 6.32 feet. Flood stage is considered at 10.5 feet.
The Collegian can be reached on Twitter @CollegianC.