Tony Frank to announce CSU athletic director Tuesday
Hannah Ditzenberger
March 16, 2015
Tony Frank will announce the new athletic director Tuesday in a press conference.
According to Assistant Athletic Director of Communications Paul Kirk, the conference will be held in Bob Davis Hall at 10 a.m. and is open to the public.
Rumors have circulated that the University hired Joe Parker, deputy athletic director at Texas Tech University, to serve as athletic director fall 2015.
A University representative could not be reached by the time of publication.
In an open forum with students March 5, Frank said that students would hear an announcement regarding the athletic director "in the next week or two."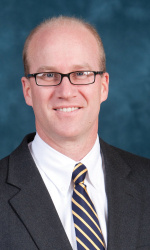 Parker was hired as  the deputy athletic director by Texas in 2011. Prior to this, he served as development manager in their athletic department. Additionally, he has worked at the University of Michigan, University of Oklahoma and Washington State University, where he served as director of annual giving. 
Parker was involved in a four-person project at Michigan that was responsible for $400 million in capital investments, including renovating the Michigan Stadium. For this project, he secured $14 million in annual gift revenue and more than $31 million in major gift revenue.
Parker holds a bachelor's degree in economics from University of Michigan and a master's degree in business administration from Texas Tech. He was a three-time All-American swimmer at Michigan.
Parker could not be reached by the time of publication.
Tony Frank fired Jack Graham, the previous athletic director from 2011 to 2014, in August. Deputy Athletic Director John Morris has served as interim director since then. Morris accepted an athletic director position at Tufts University for fall 2015 in February.
DHR International, the organization used to hire new head football coach Mike Bobo, told Frank that deciding to build the stadium would garner a robust list of candidates for the athletic director position.
As a result, Frank decided to postpone the search until the Board of Governors approved his $220 million plan on Feb.5. The search has continued since then.
CSU paid Graham $200,000 per year. The University has not released terms of contract for the next athletic director.
Collegian Diversity Beat and Entertainment Reporter Hannah Ditzenberger can be reached at news@collegian.com or on Twitter at @h_ditzenberger.