CSU researchers investigate dangerous MERS virus
A group of Colorado State University researchers are looking into ways to slow the spread of the potentially fatal Middle Eastern Respiratory Syndrome virus.
A group of researchers in CSU's Department of Microbiology, Immunology and Pathology discovered that camels carry the dangerous MERS virus and are likely responsible for the recent outbreak of the illness in humans.
The MERS virus has proven to have an approximate fatality rate of 30 percent since it was first identified in countries such as Qatar and Saudi Arabia in 2012. It has also appeared in other regions near the Arabian Peninsula. Approximately 900 cases have been reported, with symptoms including acute respiratory distress.
"The camels are very important in what's going on in the Middle East right now," said Danielle Adney, a Ph.D. student in the CSU Department of Microbiology, Immunology and Pathology. "A lot of camels are somehow coming into contact with the virus and then carrying it."
To investigate the virus, CSU researchers conducted observations on three male camels in a CSU animal disease lab equipped with specific air flow accommodations and procedures.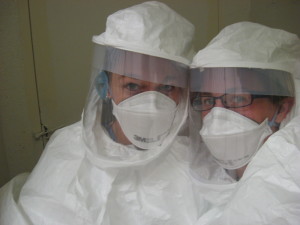 "We did an experimental infection and monitored whether (the camels) got sick, if they had a temperature and if they could spread it to others," Adney said. "We discovered that camels shed the virus by nasal secretion so this could be a main way they spread the virus. Ultimately, it was very exciting to be able to work on a project that has such an immediate health impact – that in and of itself is very important."
The ill camels were relocated to the CSU Animal Reproduction and Biotechnology Lab, where they received care. The animals infected with MERS recovered from the virus within a matter of weeks.
"We're hoping to vaccinate the camels to protect humans from the virus," said lead researcher Richard Bowen, a professor in the CSU Department of Biomedical Sciences. "The big question is, how important are camels in spreading the virus?"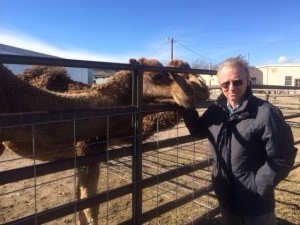 Bowen speculated that the research showed camels could indeed spread the virus to humans, but it is difficult to determine what percentage of the human cases in Saudi Arabia and adjoining countries are actually contracted from camels.
Vincent Munster, chief of virus ecology in the NIH National Institute of Allergy and Infectious Disease, is also involved in the investigation. Because of CSU's unique and high-safety testing labs, he agrees it is one of the only places in the country equipped to safely conduct such research.
The MERS virus team will continue to research and experiment in hopes of finding a possible vaccine to combat the illness.
"If we develop a vaccine, there would be a lot of steps," Bowen said. "We would have to prove that it really does prevent the shedding of the virus, and then hook up with a vaccine manufacturer to produce the vaccine."
Current research is experimenting with a vaccine containing a harmless MERS protein that is expected to spawn antibodies that will help fight the virus.
"We're not in the business to deploy a vaccine, we just do the research to show that a specific vaccine might work," Bowen said.
Collegian Reporter Jessie Trudell  can be reached at news@collegian.com or on Twitter @Jessie Trudell.