Fort Collins shooting suspect caught after community on alert
Christina Vessa
December 14, 2014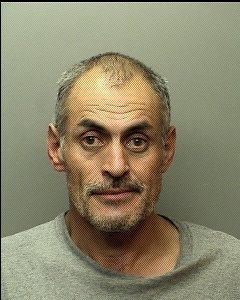 Fort Collins police arrested Jose Ornelas-Licano, 40, the man accused of shooting at officers, Saturday afternoon. He was taken into custody at approximately 2 p.m. at Prospect Road and Shields Street without further incident, according to Deputy Chief Cory Christensen.
On Friday night at about 7 p.m., Ornelas-Licano shot at Fort Collins Police detectives after escaping their arrest.
He fled the scene and crashed his white Ford F-250 truck into another car near Taft Hill Road. The driver of the car was taken to a nearby hospital with minor injuries. Ornelas-Licano then proceeded on foot, setting off a search that lasted hours.
Ornelas-Licano was wanted under warrants for failure to appear on two different charges related to fraud and drugs. He will be booked in the Larimer County on his original outstanding warrants, while additional charges are pending, according to a press release.
"I do not know if they will add on any additional charges from yesterday or if they will wait to file those charges," Christensen said. He said that there is no further danger to the community at this time.
"A citizen who was driving by the area saw Mr. Orneals and recognized him as the wanted individual and called us," Christensen said. "Fort Collins Police officers responded and were able to take him into custody without any incident."
Ornelas-Licano was not armed when he was arrested, according to the press release.
There was a text sent out to members of the CSU community on Friday night at 8:29 p.m. regarding the search for Ornelas-Licano.
"It was kind of scary when it said that we should stay inside and lock our doors, it freaked us out because we didn't feel safe at home," said Jenny Madsen, a sophomore social work major.
Kendall McElhaney, a sophomore interdisciplinary liberal arts major, was at the University Center for the Arts when she received the message. She stayed at the theater for while after the show finished in order to make sure that the area near her house was safe.
"If it weren't for the texts, I wouldn't have known," said McElhaney who was relieved that there was a quick turnaround to take the suspect into custody.
In regards to recent events in the community, students have expressed concern for safety.
"A lot of sketchy stuff has been happening and it derails Fort Collins reputation as the nicest town in America," McElhaney said. She thinks that more street lights should be put in that area of town and campus.
"It just worries me, I thought that Fort Collins was pretty safe, but this year it doesn't seem that way," Madsen said.
Collegian Reporter Christina Vessa can be reached at news@collegian.com.