Committees and staff recommend on-campus stadium to Frank
Skyler Leonard
November 19, 2014
Four entities tasked with evaluating stadium options have all recommended an on-campus stadium to Colorado State President Tony Frank instead of renovating Hughes Stadium.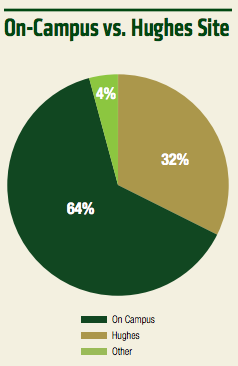 The athletics department, Facilities and two committees released their reports Wednesday alongside a public input poll, which found 64 percent in favor of an on-campus stadium and 32 percent supporting Hughes.
The reports given to President Frank on Friday will be used in his final recommendation to the CSU Board of Governors in December. During the October Board of Governors meeting, the board decided to postpone their final vote on the stadium to give President Frank more time to make his final recommendation.
The Campus Leadership Committee and Facilities Management both recommended option three out of the four possible choices. The option would allow for the on-campus stadium to be built in phases.
The campus committee wrote in their analysis that, "With this option, CSU can create and actualize the vision of the University in the near future while remaining in control of the construction, operation and maintenance of the stadium."
The athletics department and the Community Leadership Committee both recommended options three and four. Option four would entail a partnership with a private entity to fund the facility.
In the athletic department report the group stated "Assuming favorable financial terms can be secured that are in the best interest of the University over the long-term, Athletics prefers Option 4 because it would result in the full, non-phased implementation of the original stadium design."
Facilities Management and the campus committee both disagreed with option four, citing financial issues and the notion that CSU would lack control over choices such as design, maintenance and construction of the stadium.
All groups decided the other two options, which would either maintain or improve Hughes Stadium, were inadequate.
"Staying at Hughes Stadium—even Hughes 2050—would likely foreclose options of ever competing in one of the major high visibility conferences," the Community Leadership Committee reported.
According to CSU Spokesman Kyle Henley, the University will not be commenting on the recommendations beyond posting the report results.
Collegian Reporter Skyler Leonard can be reached at news@collegian.com or on Twitter @skyler_leonard
Related articles