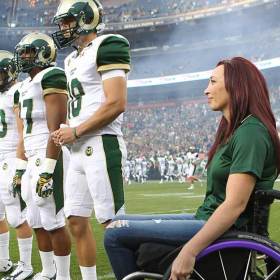 For the first time in Colorado State University history, a campus street is being named after a former student.
In honor of Amy Van Dyken, the six-time gold medalist swimmer, 1994 NCAA Swimmer of the Year and 50-yard freestyle NCAA champion, centrally-located West Drive will be renamed on Friday to Amy Van Dyken Way.
The former Ram will also serve as Grand Marshal of the Homecoming parade.
Former CSU swimming head coach John Mattos, who coached Van Dyken at CSU and the Olympics, said he admires Van Dyken's strength as an athlete and as a person after she experienced an ATV accident last summer that paralyzed the former Ram.
"Because of what she was able to do as an athlete, it has allowed her to stay extremely positive and move forward dealing with the issues she is dealing with physically," Mattos said. "I know this is a huge honor for her. It means the world to her to have CSU recognizing her in this way."
Tom Milligan, vice president of External Relations, was involved in the planning Homecoming events and said Van Dyken's dedication and perseverance personifies the attitude of CSU.
"Amy is a terrific representation of the University," Milligan said. "We are a roll-up-your-sleeves type of school and Amy is a great example of that kind of attitude … We don't name streets after people. She's a big deal."
Van Dyken said she is excited to be Grand Marshal of the Homecoming parade she has attended so many times before and is thrilled to join the ranks of other esteemed Grand Marshals.
"They always have the coolest people as the Grand Marshal," Van Dyken said. "I look at the people who came before me that don't have a street named after them, so I am completely honored. It will be really fun to give people directions on how to get to campus now."
Van Dyken said she is in disbelief that a street is being named after her and honored to be part of CSU history.
"I have to say, CSU is one of the greatest schools in the country," Van Dyken said. "I am the biggest fan you could ever imagine. There is such a great history at CSU and it's important for current students to experience that. CSU students are part of something bigger than themselves."
The renaming ceremony is taking place Friday at 11 a.m on the southwest corner of the Oval before the Homecoming parade. The parade will begin at 4:30 p.m. that Friday afternoon.
Collegian City Beat Reporter Danny Bishop can be reached at news@collegian.com and on Twitter @DannyDBishop
Related articles