Fort Collins police warn Colorado State of peeping tom incidents
Collegian Staff
September 2, 2014
Video by Kerry O'Connor
Police officer Matt Johnson explains why the recent Fort Collins peeping tom and break-in incidents could possibly be connected in this CTV report.
—
Fort Collins police are advising off-campus students and Fort Collins residents to lock their doors, close their window curtains and practice overall privacy habits in response to a man peeping into homes.
Investigators are looking into eight reports of window-peeping and four burglaries, according to a press release from Fort Collins police, but police do not believe burglary is the suspect's main motivation.
"The second week of August we began to take some burglary reports, and those burglary reports were concerning because they really did not have a logical explanation," said Fort Collins Police Officer Matt Johnson. "There really isn't any evidence that the motivation was just to steal valuable items … Voyeurism can be a predicate to more serious sexually related crimes."
Mollie Cooper, a CSU junior studying apparel design, was approached by the police because one of her neighbors encountered the offender.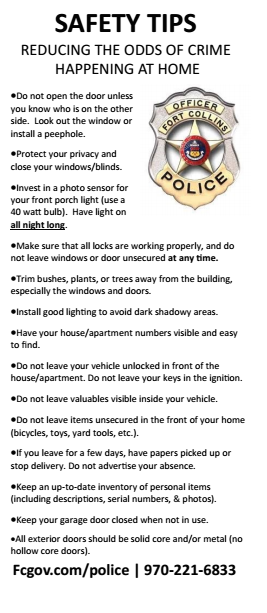 "Police warned us a girl a street behind us had called the police," Cooper said. "Police told us a man had come into her house, went into her room and was standing over her while she was sleeping."
Johnson said, along with practicing common sense, residents should take a look at their houses from the outside to ensure lighting is adequate and there are no obstructions, like shrubbery, for an offender to hide behind.
Emily Allen, community liaison between Fort Collins and CSU's office of off-campus life, said Fort Collins is one of the safest places in the country, but residents still need to be aware of the privacy dangers.
"People have the mentality, 'It can't happen to me,'" Allen said. "Thankfully, Fort Collins is a safe community, but we take that for granted sometimes."
Allen said students should be more cautious and be diligent about locking doors and covering windows.
"Fort Collins is a training ground, and these are lessons to practice for a lifetime," Allen said.
A press release from Fort Collins Police Department  included a list of safety tips which advise residents to install deadbolts on exterior doors, use peepholes and lock windows.
Collegian Reporter Danny Bishop can be reached at news@collegian.com or on Twitter @DannyDBishop.