A trailblazing internship; CSU student Jay Merrill restores flood & fire damage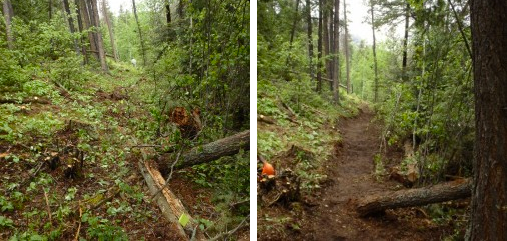 Two years have passed since the High Park fire, and almost a year since the flooding of Larimer County. Colorado State student Jay Merrill is making efforts to clean up the mess.
Merrill, a geology major going into his junior year, has a summer internship at the Rocky Mountain Conservancy – Conservation Corps. He repairs hundreds of feet of trails that were affected and damaged by the floods in Estes Park and Red Feather Lakes.
"I'm the only student from CSU … there are lots of people from out-of-state," Merrill said. "There are 36 people total, six crews
— 
made up of six people
—
escorted by two crew leaders that focus on flood damaged areas."
"Rocky Mountain Conservancy is a great resource for us to have," said Reghan Cloudman, spokesperson for the U.S. Forrest Service. "The crews help get as much done as possible."
An average summer day for Merrill starts early with his crew of men and women at the U.S. Forrest Service bunk house headquarters in Northern Fort Collins. They begin with a group stretch and safety circle where crew leaders and members talk about lightning awareness or heat exhaustion prevention, depending on what the forecast is looking like that day.
They then load up their tools and commute wherever trails need fixing, either in Estes Park or Red Feather Lakes. They unload and carry their tools more than three miles until they reach the damaged trail and begin working at the major flood damage.
Four four days a week, the crew begins at 7:30 a.m. and go till 5:30 p.m., with a 30 minute lunch break.
"The work load is hard, challenging and a lot of stress on the body," Merrill said.
The tools they use include: crosscut saws, two-person old-fashioned saws that requires certification to use, 
pulaskis
—
 tools with an ax on one end and an adze on the other; and 
Mcleods
— 
a rake with two-sided blades.
The crews follow strict safety protocols while using the tools and are guided by flags to know where to reroute and carve out damaged trails.
Carrying a tool in each hand and a full pack on their backs, the interns pack heavy loads in and out each day.
Merrill recollected a notably challenging day that accompanied the usual laborious duties.
"Joe, my crew member, and I built these steps to this trail in a huge area that was affected by this river where the flood happened," Merrill said. "There was a huge chunk missing and a cliff that we had to build up and around it by taking huge slabs of rock and moving them down the mountain to create a make-shift stair case

—

 it was a blast." 
This job is not just about physical labor. A crew leader gives a weekly report on their crew's achievements. By the end of the work season, just before fall semester begins, crew members provide a reflection essay based on their goals and accomplishments throughout the summer.
"The best thing about the Conservancy Corp is the ability for volunteers to experience working closely with land agencies," said Geoff Elliot, Rocky Mountain Conservancy Conservation Corps manager. "They truly function as members with the Forrest Service and understand how the service operates."
Aside from working, crews find time to play and get to know each another. Outside of work they enjoy bowling, catching a movie and sometimes hiking if they are not sick of it.
"Working on the trails has given me a new appreciation for them," Merrill said.
[new_royalslider id="156″]
Photos submitted by Jay Merrill
Collegian Staff Reporter Dina Alibrahim Fike can be reached at news@collegian.com.