Junior League's 32nd Annual Terrace and Garden Tour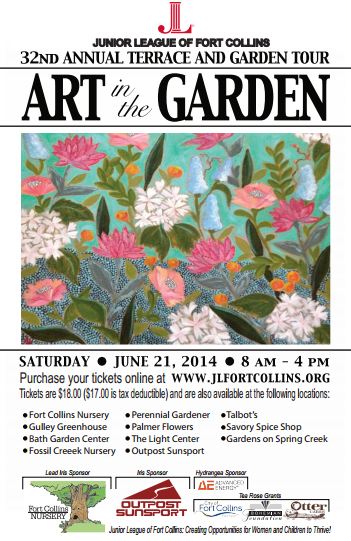 Six gardens will give community members the chance to marvel in nature, explore beautiful garden settings and learn about plants this Saturday.
On June 21, the non-profit organization Fort Collins Junior League is hosting their 32nd Annual Terrace and Garden Tour.
Profits will go toward organizations that support and empower women and children in Northern Colorado, such as the Junior League Career Closet located in Downtown Fort Collins. The Poudre School District Snack Program and the Lincoln Center Children's Imagination Series will also benefit from the profits obtained through the Garden Tour.
The tour will begin Saturday at 8 a.m. and will end at 4 p.m. Participants will tour gardens around the City Park neighborhood.
Six homeowners volunteered their homes and garden space to teach community members about various plants, how to landscape design and how to create and maintain an outdoor living space.
Tickets are $18 and can be purchased online at their website or at local retail stores:
• Fort Collins Nursery: 2121 E. Mulberry St.
• Bath Garden Center: 2000 E. Prospect Rd.
• Fossil Creek Nursery: 7029 S. College Ave.
• Gulley Green House: 6029 S. Shields St.
• Outpost Sunsport: 931 E. Harmony Rd.
• Palmer Flowers: 3710 Mitchell Dr.
• The Light Center: 2725 S. College Ave.
• Perennial Gardener: 154 N. College Ave.
• Talbot's: 4321 Corbett Dr.
• Savory Spice Shop: 123 N. College Ave.
• The Gardens on Spring Creek: 2145 Center Ave.
Collegian Senior Reporter Jospehine Bush can be reached at news@collegian.com.