Construction along College Avenue hurts local businesses
[new_royalslider id="152″]
Photo credit: Lawrence Lam
Only one lane of northbound College Avenue is open, and outside of coffee shop Caffé Olé, traffic is piled up from Laurel Street down to Mulberry Street.
Inside Caffé Olé, owner Tia Tedford serves a construction worker a cappuccino. Her business and many others have been cut off from their main access point: College Avenue.
Currently, the City of Fort Collins is undergoing a substantial renovation project to replace water mains placed in the city during the 1930s.
The project entails digging various holes up and down College and other adjoining side streets. Many areas are gated off and access to sidewalks and streets is diverted.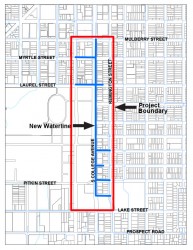 According to Tedford, the construction has substantially impacted her business.
"When the construction started, business died — we took a huge hit," Tedford said. "It was combined with the exact same week when all the students took their summers off so it was like, 'pow!"
According to John Hernandez, an employee of DP Dough – located a couple shops down from Caffé Olé — the summer months are always hard on business.
"It's the summertime, so it's slow," Hernandez said.
Southeast from DP Dough sits the sandwich shop Cheba Hut. Unlike DP Dough and Caffé Olé, Assistant General Manager Ryan Sowden said that Cheba Hut normally does better in the summer months, but they have seen a decline this year.
"We normally get the whole business crowd," Sowden said. "That has kind of died out."
Sowden said Cheba Hut has lost anywhere between 10 and 30 percent of their business so far.
According to Tedford, the city has been very accommodating to her needs during the construction, and has listened to her concerns.
Recently, Tedford joined the Downtown Business Association because the group is offering free admission to all businesses affected by the construction until September.
According to Tedford, construction will move on in about two weeks. Until then, access to her store and others is limited.
Collegian Senior Reporter Skyler Leonard can be reached at news@collegian.com.