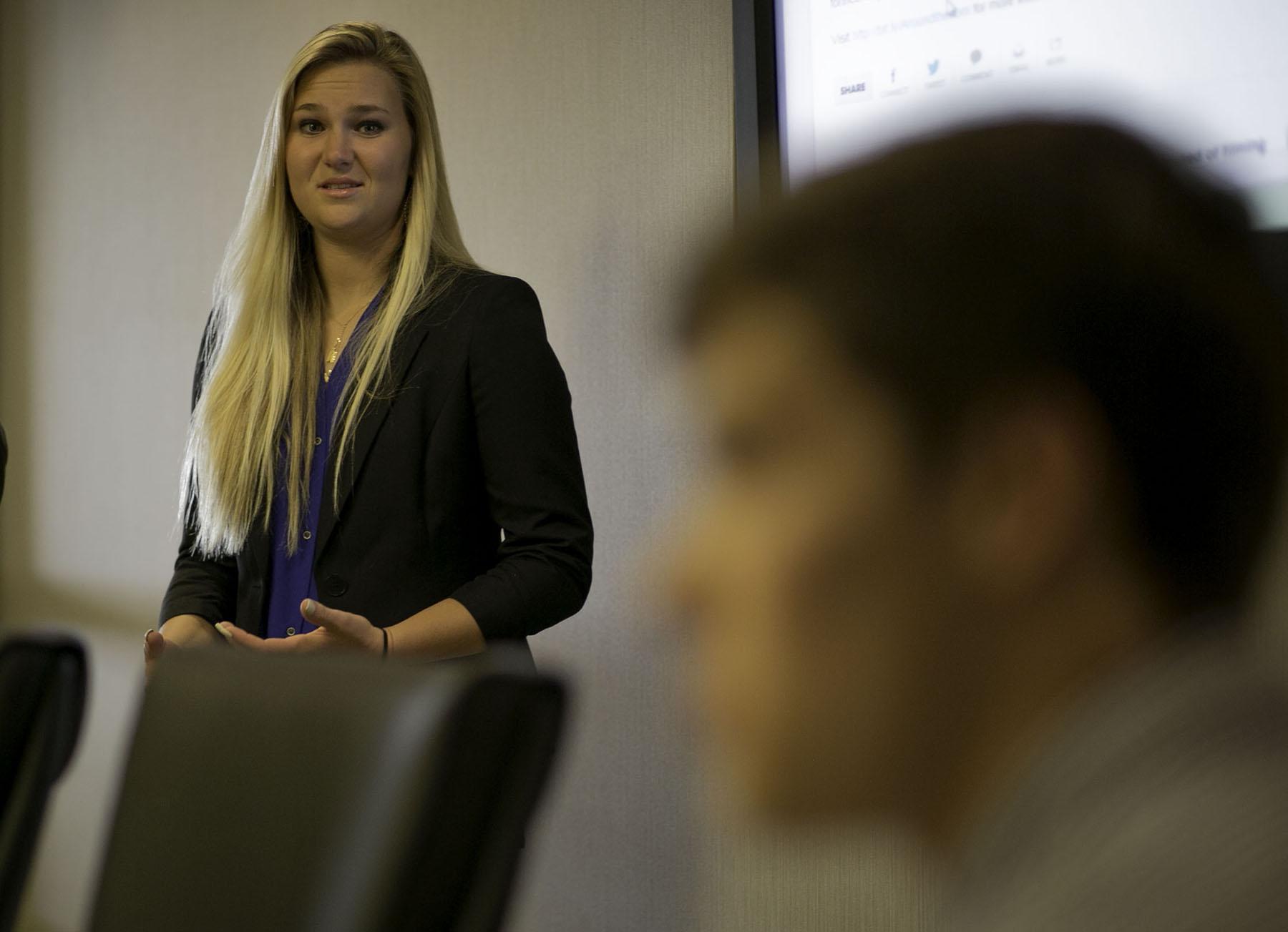 ASCSU's 44th Senate had their first meeting Wednesday night after the Daniels administration handed the reins over to newly-elected President Samantha Guinn and Vice President Lance LiPuma.
Former President Nigel Daniels gave a speech and handed Guinn a briefcase that has been used by every ASCSU President and gave her a sword — a ritual that his predecessor also conducted with him.
Former Vice President Andrew Olson administered a similar ritual with LiPuma, handing off a gravel and a box, both previously owned by their predecessing VP's.
In the briefcase and box are trinkets left for future administrations by every ASCSU President and Vice President in CSU's history.
"I call to order the 44th session of ASCSU Senate," LiPuma said after the ceremony.
The first order of business for the newly-inducted administration was to appoint senate positions for next year.
Shortly before the ceremony, during the last official senate meeting of the 43rd senate, Senators debated a bill that has been in the works since fall 2013 — Bill 4325, an initiative that would essentially allow representatives from diversity offices have a voice in senate.
"I've spent all year on this legislation," said Senator Kwon Yearby, author of the bill.
Last night, Yearby still was not satisfied with representatives not having voting rights.
"They're not seen as full members of this body for reasons I cannot understand," Yearby said.
GLBT Director Foula Dimopoulos attended senate to speak to the bill. The GLBT office was created through ASCSU, and as its director, Foula came to speak about the necessity of continuing communication between the diversity offices and student government.
Dimopoulos was able to elect a student from her office to serve as the GLBT representative on senate. Foula said that this kind of flexibility would be imperative for the bill's success.
ASCSU Senate has struggled with retention issues all year and reaching out to the diversity offices can raise not only a more (diverse) presence in the senate chambers, but allow senators to reach out to more students.
"It seems to me, as an outsider, that ASCSU hasn't had a strong voice on campus," Dimopoulos said.
It will be up to next year's senate to put the bill into action and Deep Badhesha stressed it was imperative this session vote, even in a straw poll, to show next year's representatives what this group's intentions were with the bill.
"Somehow, someway, this senate needs to vote on what's on this paper," Badhesha said. "If that doesn't happen, I think we've wasted a lot of people's time."
Seventeen senators voted in favor of the bill, one voted in opposition and one abstained.
"I appreciate your efforts. I appreciate your flexibility … and I appreciate you understanding what it means to be marginalized," said Guadalupe Salazar, director of El Centro. "I hope you do the right thing. The right thing is providing things to all. We are an inclusive institution. You can model that behavior."
Collegian Campus Editor Kate Simmons can be reached at news@collegian.com.