CSU alumna creates Dam Good Tacos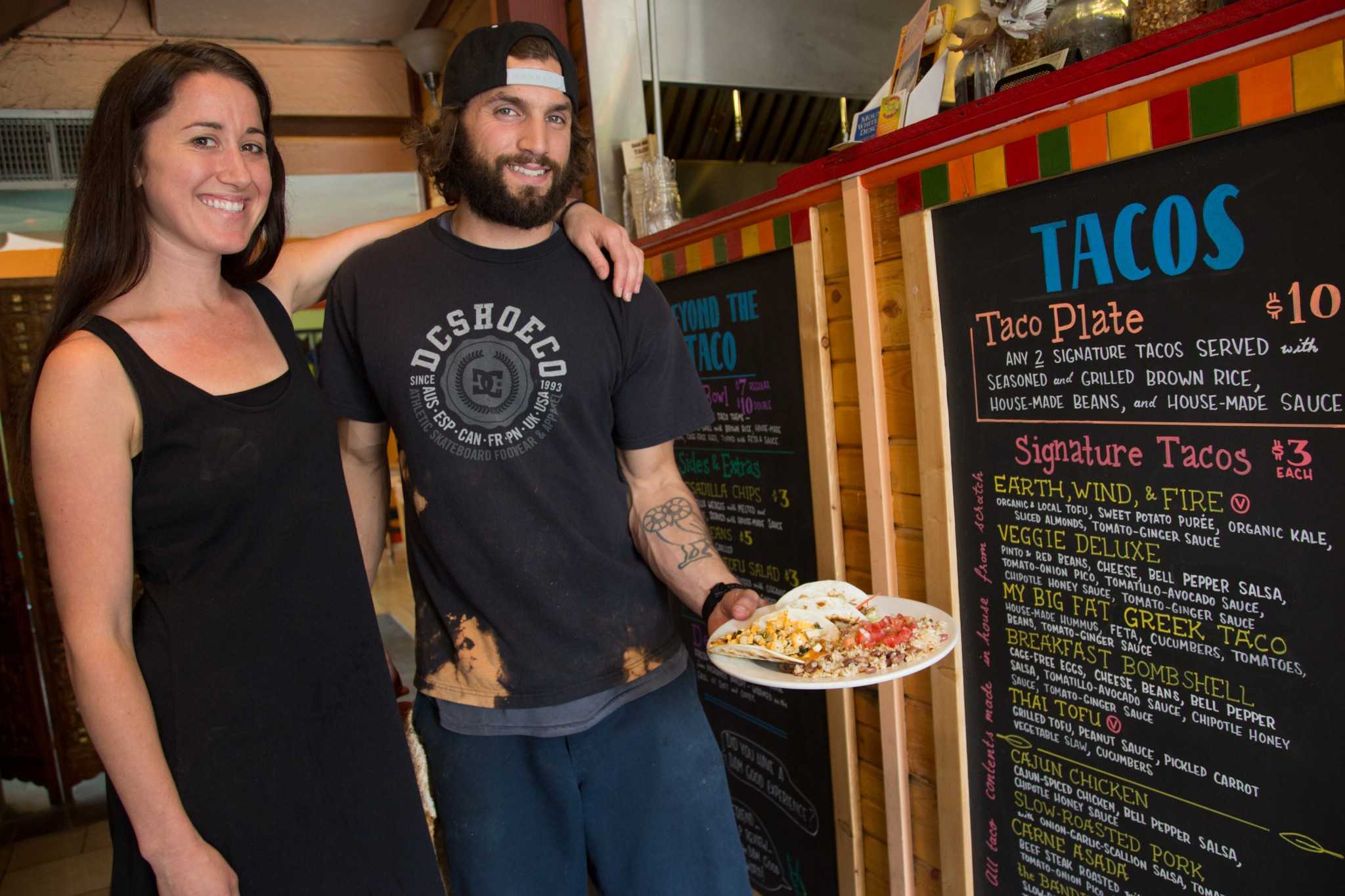 Dam Good Tacos takes the familiarity of a taco and makes something new.
Michael Falco and Ali Hatcher opened the non-traditional taco joint in June 2013 that sits beneath the Alley Cat beside Algiers Hookah Bar on 120 W. Laurel St. and is open daily from 11 a.m. to 11 p.m.
Dam Good Tacos
www.damgoodtacos.com
120 W. Laurel St.
Open everyday 11 a.m. – 11 p.m.
Signature Taco – $3
Taco plate, 2 tacos with rice & beans – $10
Organic Drinks – $2-3
"They're authentic American tacos which is a term we created to describe a non-traditional taco experience," Hatcher said. "We hope people come in here with an open mind to not get a traditional taco."
With a passion for tacos, Falco originally started Dam Good Tacos as a joint in Basalt, Colorado, before it was turned into a mobile cart. After meeting each other at the mobile cart in Fort Collins, the two decided to expand the non-traditional tacos to a restaurant.
"My favorite part of the business is seeing people's shocked and smiling faces when they eat our food and they're like, 'That was the best taco I ever had,'" Falco said.
When Dam Good Tacos began, there were three tacos on the menu — the Veggie Deluxe, the Slow-roasted Pork, and the Cajun Chicken. Today, the newest additions include a Thai Taco and "My Big Fat Greek Taco," which Hatcher and Falco both experimented with to get on the menu.
"We're always developing new tacos. It's always a surprise when it happens," Hatcher said. "A lot of things on our menu are things that people have suggested or requested."
Jenna Franck, a freshman studying social work, ordered the Carne Asada taco and Thai taco, who found the place after walking by the Alley Cat one day.
"I was like 'man, let's see if it lives up to its name," Franck said.
She loved their fresh ingredients and crispy tortillas.
"I just thought it would sound cool," said Falco, who came up with the name. "And people remember it."
Along with tacos, which are $3 each or two for $10 with rice and beans, Dam Good Tacos has also invented health-oriented drinks like Hibiscus Tea and Spicy Chocolate Horchata.
"The restaurant is our palette, there's always opportunity for new ideas," Hatcher said. We really thrive in that capacity."
Through their Cup Exchange Program where customers can pay an additional $1 to take the mason jar home in which their drink came, Dam Good Tacos received silver in Climate Wise this year.
Hatcher, who graduated with a masters in public health at CSU in 2013, is an entrepreneur at heart.
"I really enjoy the creative side of running a business," Hatcher said. "It draws upon every experience you ever had."
Falco, who studied kinesiology at Rice University, was inspired by the food truck culture when he lived in Austin, Texas.
"It's giving chefs a chance to get into making food for the public without having to open a full-scale restaurant," Falco said. "That resonates with people. People want stuff that's awesome, that doesn't cost an arm and a leg, in a hurry."
Dam Good Tacos still operates their mobile cart on Thursdays at New Belgium and occasionally in Old Town. For $10 a head, Hatcher and Falco provide all-you-can-eat tacos to weddings, graduation parties and any events.
"Anybody's capable of being an entrepreneur. A lot of people out there have that in them," Hatcher said. " I would just encourage students who have a diverse set of skills and interests to look into being an entrepreneur. You just have to be willing to put all your time, for a while."
Nearing their one-year anniversary at the new location, Hatcher and Falco are excited by what is to come.
"There will be things that we're gonna do that we can't even seen yet," Hatcher said.
Collegian Features Beat Reporter Hannah Hemperly can be reached at news@collegian.com.