CSU not on list of universities being investigated for sex assaults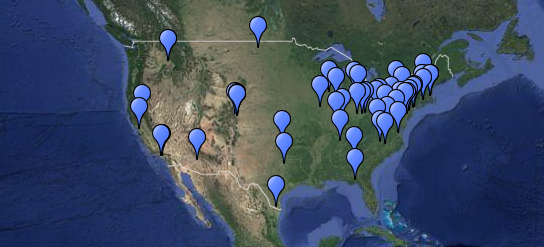 Universities across the country, and four in Colorado, are being investigated for possibly violating federal law in cases of sexual assault. CSU isn't one of them.
A Title IX investigation was released May 1 that lists 55 higher education institutions who are being reviewed for violating federal law. Title IX prohibits discrimination on the basis of sex in any federally-funded education program or activity.
The most recent statistics available through the CSU Police Department state that in 2012, 12 "forcible sex offenses" occurred on campus — although sexual misconduct occurs, the university attempts to handle it in an appropriate manner.
The list released by the Department of Education included four Colorado universities, CU-Boulder, CU-Denver, Regis University and University of Denver. All were cited because they are "under investigation for possible violations of federal law over the handling of sexual violence and harassment complaints," according to the U.S. Department of Education release.
In July 2013 CU-Boulder announced the existence of a sexual assault-related Title IX investigation. Therefore the University's presence on the Department of Education list was not news to CU-Boulder students, according to a press release written by CU-Boulder chancellor Philip DiStefano.
The University underwent an external review by an outside firm that investigated the Title IX claim and found CU-Boulder in compliance with all federal laws.
"We intend to evolve our current policies, training, support mechanisms and awareness to make ourselves a model by which all other universities are measured," DiStefano wrote. "I pledge to you that we will review all the White House recommendations and integrate those elements into what we are currently doing, all with the goal to move us above and beyond mere compliance, into leadership."
When CSU approaches a case of sexual misconduct, the university advises the impacted individual of their options, including reporting the misconduct to the University and exploring various support services, according to CSU Support and Safety Assessment Director Dwight Burke.
If the person who committed the assault is a CSU student, the University must also take further action. Although in the past year several stranger-initiated sexual assaults have occurred near CSU, Burke said that cases in which the two parties know each other are more common.
"It's not uncommon, we have sexual misconduct occur pretty much every semester in fairly significant amounts," Burke said. "CSU's responsibility is to, I believe, one, try to educate and create a climate where we show the value of all parties, where we teach proper gender relationships and consent and we do our best to create that climate as a prevention. Secondly, when cases do occur when we have information of act, we have the responsibility to offer resources to those involved, to create protections for those involved, and there's a responsibility of due process."
Kathy Sisneros, director of the CSU Women and Gender Advocacy Center, said that although CSU is currently in compliance with all laws and regulations, there is more to be done to create a sex-positive campus free of sexual assault.
"I don't want us to just be the best steward of a process. That's the lowest part of the bar," Sisneros said. "If we are doing our job just to meet the standards of (the Office of Civil Rights) and Title IX, that's basically us covering our you-know-whats. What I think is more important is … trying to create a safer campus for our students. That needs to be the priority."
Collegian Reporter Ellie Mulder can be reached at news@collegian.com.