CopperMuse distillery finds a home in Old Town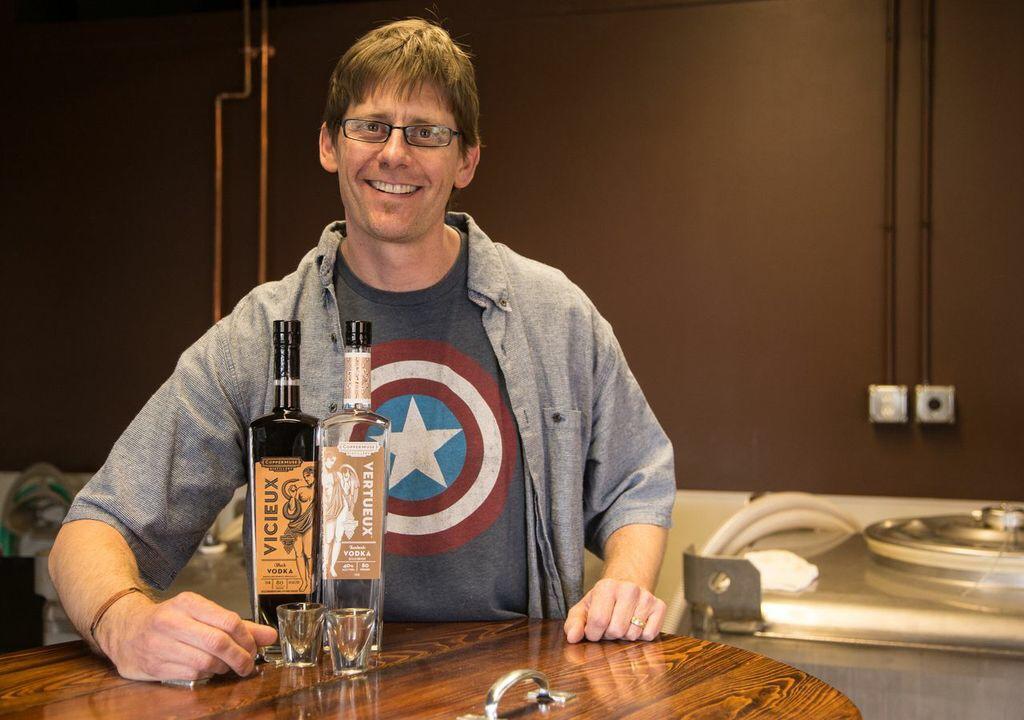 He was an engineer for 20 years, but now this CSU alumnus is making vodka.
Fourty-four-year-old Jason Hevelone graduated with an electrical engineering degree at CSU in 1992 and opened CopperMuse Distillery on April 3 of this year at 244 N. College Ave, in the same block of local brewers Pateros Creek Brewing and Compass Cider.
Both members of the homebrewing club in Fort Collins, Hevelone and his wife dreamed of starting their own brewery out of college, but did not take the idea seriously until 2011.
"What would our parents say after getting engineering degrees?" Hevelone joked.
In 2011, Hevelone took a sip of a craft gin and tonic and fell in love with the idea of craft spirits. After attending a distillery workshop in Chicago, he learned the logistics of the craft itself, along with how to develop a business plan and deal with the legal issues of starting a distillery.
"It's a long road — it's an expensive road, and it takes a lot to get there," Hevelone said. "Distilling is real high-barriered entry because it is so regulated."
As opposed to homebrewing and winemaking, distilling is still illegal to practice at home because of safety issues stemming back to the era of prohibition and bootlegging.
"Homebrewing became legal in 1978, and I started homebrewing in 1976," Doug Odell, founder of Odell Brewing Company said. "I didn't care whether it was legal or not. I just wanted to do it."
Back in his CSU days, Hevelone took classes with Doug Odell, when brewing was just taking off in Fort Collins.
"The engineering degree helps a lot with the science, you'll find a lot of engineers are brewers. It appeals to them," Hevelone said. "All engineering is is problem-solving."
Distilling is done in a copper still, which separates ethanol from water and turns alcohol into a flammable vapor. The entire process of distilling — from mixing, fermenting, distilling, and bottling — brings brewing and winemaking together, with fermenting at the heart.
"The neat thing about distilling is that you still have to ferment something," Hevelone said. "You're a brewer first and foremost."
According to Hevelone, the vast majority of spirits today are imported into the United States. Helevone hopes to bring the American value of distilling to Fort Collins.
"Finally, you're moving out of these old laws that came out of prohibition and bringing it back," he said. "There's so much more taste and variety as a craft distiller. You're not gonna beat them on price — you have to try to find new things that people haven't tried before."
CopperMuse is strictly self-funded, and Hevelone tapped into his 401K to fund the company. He jokes that CopperMuse is his midlife crisis. When it opened, his wife got him a copper bracelet with the geographic coordinates for their house, to remind him where his real home is.
"You gotta go for it," he said. "Do you believe in what you're gonna do or not?"
According to Hevelone, the most difficult parts of starting CopperMuse was the legal red-tape and finding a name to trademark their brand.
The thought behind the design of the label and brand of CopperMuse comes from the copper of the still used to make spirits, with an art deco twist.
Kristie Dehn, a 2008 CSU communication studies alumna, works the other side of the company's operations in the art deco-inspired tasting room, where customers can taste craft cocktails and food, and sample shots of their vodka at $2 to $4 a shot.
For now, CopperMuse is making their Brightside Vertueux, meaning virtuous, vodka with a sister black vodka, called Vicieux, meaning wild, which creates a light and dark paradox in both meaning and taste.
"It's kind of this idea that we all have good and bad and dark and light in us," Hevelone said.
Helevone said they're also on the way to producing other spirits like whiskey, gin and rum.
Currently, CopperMuse has 17 craft-cocktails which range from $6 to $9 are inspired by muses and their drink profile, such as the Coco Chanel-inspired chocolate martini, the Calliope — the Greek muse of poetry — made with freshly-squeezed cantaloupe juice, and the Seacrest, made with peaches from Ryan Seacrest's home state of Georgia.
Eian O'Brien, barista at Mugs at the Oval, tried the Calliope on a visit to the distillery tasting room with his dad.
"That was exquisite as far as mixed-vodka drinks go," O'Brien said. "It was some of the smoothest vodka I'd ever had. My dad wanted to buy four or five bottles, and he's very picky about his vodka."
Dehn and Hevelone credit most of the quality of the vodka to the great water of Fort Collins.
Since the opening, there has been a great response and curiosity from the community who want to find out what craft-distilling is all about.
"It's been overwhelmingly positive," Hevelone said. "I've been very humbled by it."
CopperMuse breaks the mold from other Old Town bars, with a tasting room and closing hours at 10 p.m. on weekends.
"We're not trying to be part of the late-night scene, we just want people to taste our drink and enjoy it for what it is," Dehn said. "It's a beautiful, beautiful vodka."
Customers can come to taste the vodka, buy a bottle for $27, enjoy the art deco vibes, learn about the process of distilling and support the local establishment.
"We don't have the crazy drinkers in here, we have the people who want to have nice conversation," Dehn said. "They don't come here to get rowdy. They come here to enjoy the crafted cocktail."
CopperMuse Distillery is attempting to bring the culture of distilled spirits into the  craft beer-dominated Fort Collins scene.
"If you asked anybody 25 years ago, most people would say beer is all the same. Beer is not the same and it's not made by these faceless companies, it's made by your friends and neighbors," Odell said. "What CopperMuse is doing fits into the same vein. It's bigger than beer and alcoholic beverages — it's about the local movement."
Collegian Features Beat Reporter Hannah Hemperly can be reached at news@collegian.com.